The Broughty Ferry man who packed, chiselled and sawed away at snow for an "embarrassing" amount of time to create a Darth Vader in ice says he is "overwhelmed" by the public's interest.
Art teacher Douglas Roulston says the 20 hours of bone-chilling effort were worth it to see it bring joy to so many — and raise cash hundreds of pounds for a charity's vital work.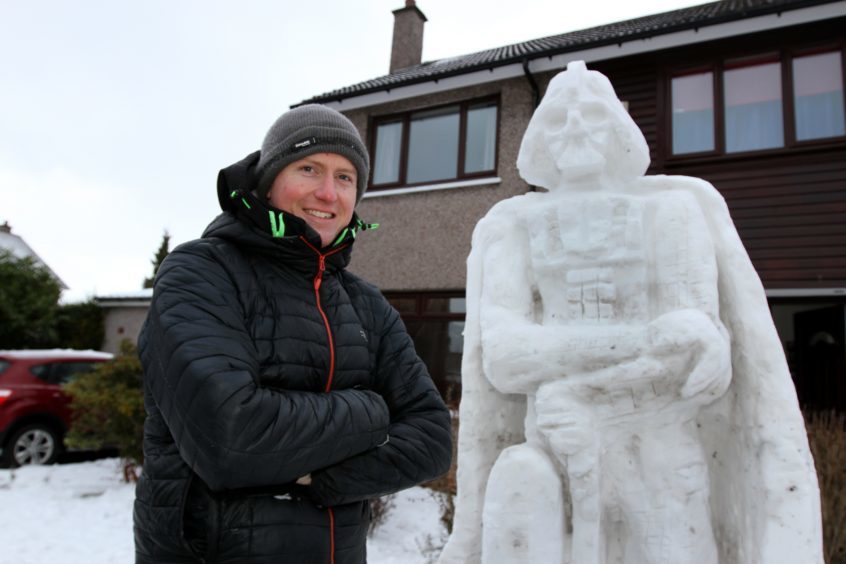 Mr Roulston, who lives in Blake Avenue, got creative after his school, Forfar Academy, was closed by the Beast from the East weather last week.
Using some of the skills picked up when working on a Transformers ice sculpture with a friend around 10 years ago — and roping in help from his young family — he crafted the snow into a dramatic 10ft tall depiction of Star Wars' most infamous villain.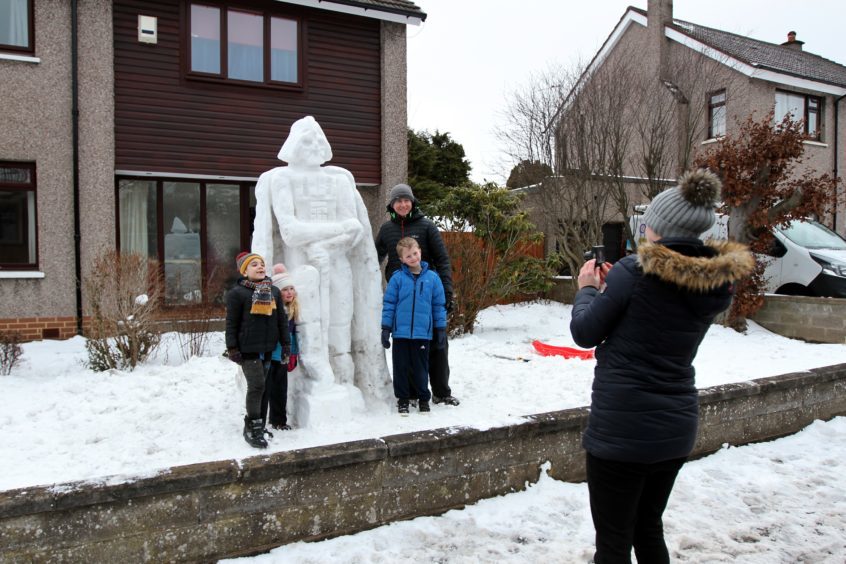 As word started to spread, and the sculpture became a minor tourist attraction, Mr Roulston decided it was the perfect opportunity to raise more money for charity.
He said: "I went outside with the kids to do it and it has just snowballed from there. I'm doing a Maggie's penguin this year for the Maggie's Centre and I thought I'd put a bucket out and raise a bit of money for that.
"It's really fun. Loads of people have admired it and put money in the box. It's just been overwhelming."
Been to see Broughty Ferry's Darth Vader yet? Blake Avenue. Raising money for Maggies. Get there before he succumbs to the thaw. pic.twitter.com/MReoOBbX0s

— Richard Rooney (@C_RRooney) March 4, 2018
Although the thaw means Darth Vader's time is running out, the snow giant has raised around £200 for Maggie's — and Mr Roulston says he wouldn't rule out more ice creations if the weather takes another turn for the worse.
He said: "I think I'm going to have to move to a snowier country because I've enjoyed it so much.
"I just absolutely love doing this. Any time there's snow I think I'll be out doing more snow sculptures."
Thanks to all the support to help make money for the Maggie Centre Dundee. Darth is still available for a selfie or two but has shrunk by almost 3feet. Thanks #darthvader #starwars #maggiecentre #rt #dundee #snow pic.twitter.com/4fRSX8l3Ev

— Mr Roulston (@droulstonart) March 4, 2018