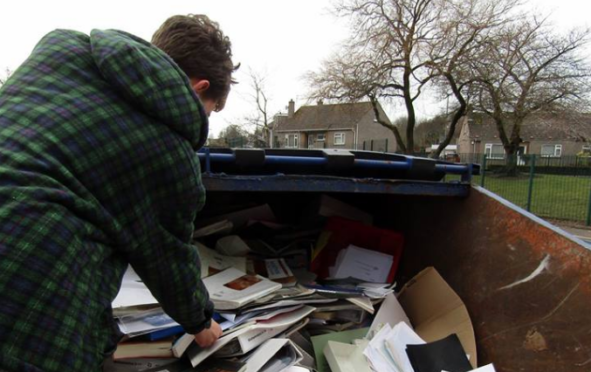 Community campaigners have questioned why they have had to sift through recyclable materials headed for landfill at the old Baldragon Academy.
Members of the Kirkton community have spent days going through the old school sorting out the "heaps of stuff" left behind following its closure in February.
Stephen Cragg, secretary of the Kirkton Community and Safety Partnership, said as much as 70kg of recyclable paper had been found in a skip which was due to be sent to landfill, as well as piles of text books and school equipment in a usable condition.
"We were invited into the school over the weekend by a member of the Dundee Reuses," he said.
"There were piles of things which were just going to be chucked – calculators and textbooks and things going straight to the landfill or the incinerator.
"There was a big skip in the car park filled with unused equipment which had just been chucked in and not sorted.
"Hundreds of textbooks were inside it, which we have organised to be sent off to a charity who provide textbooks in places where they can't afford them.
"We showed the lord provost at the council meeting on Monday night a calculator we found, still in its packaging.
"We want to know why we are having to do this and why items from the school are not being sorted properly.
"When we went back on Monday the skip had been filled again with more recyclable and usable things.
"Why on earth is this being allowed to happen?"
A Dundee City Council spokesperson said: "As with other council building closures, a procedure is in place at the former Baldragon Academy to maximise the recycling opportunities for materials.
"Items are offered to other schools and council service areas before specialist social enterprise companies are allowed access to recycle any objects that are left.
"Following this, remaining furniture and other items are split into component parts before being recycled. The procedure aims to reduce the amount of waste that is just simply thrown out."