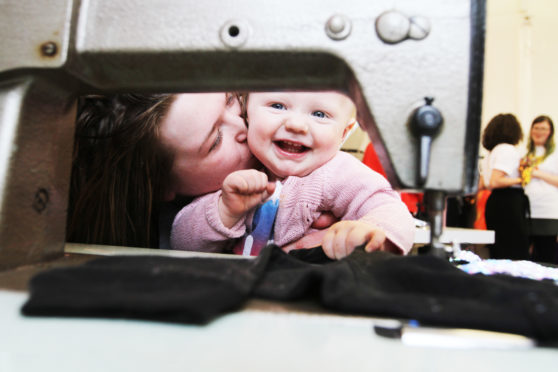 A Dundee community project has attracted support from a local fashion designer whose client base includes Miley Cyrus and Pixie Lott.
Samantha Paton, 28, who runs fashion label Isolated Heroes, is backing Kindred Clothing, a project created by and for young parents participating in the Bringing Up Baby group based at the city's Hilltown.
Kindred Clothing aims to build up the skills and confidence of teenage parents who can make clothes and forge new friendships while their children play.
The initiative is currently vying for a National Lottery grant in the People's Projects competition, which is open for voting and will reward the three finalists with the highest number of votes, with up to £50,000.
Mother-of-one Samantha, who runs her fashion line at Dundee's Meadow Mill, said: "Our main objective is to empower others, making our customers feel the most confident version of themselves whatever their shape or size.
"We are therefore actively supporting Kindred Clothing which is empowering young women and arming them with the skills and self-belief required to further their careers.
"We would encourage people to get behind this project and vote for Kindred Clothing to help transform the lives of young mothers within Dundee."
Samantha's fashion range sells luxury, colourful items for younger audiences and has developed a cult following, with celebrity clients including Miley Cyrus, Paloma Faith and Pixie Lott.
If funded, the Kindred Clothing programme will include tailoring, knitting and quilting, with the added opportunity for parents to design their own fabric through screen-printing.
There will be weekly drop-in sessions at Front Lounge's Hilltown premises, as well as showcase events and visits to creative venues including the DCA.
The sessions will be led by young parent volunteers, supported by a community learning and development  worker, with a making practitioner facilitating the creative sessions.
The grant would help pay for materials and machinery, toys and a play worker.
Longer term, it is hoped that the skills gained would lead to external accreditation and new employment opportunities.
The voting period runs until the end of the month, with the winners announced on May 3.
For more information, and to vote, visit www.frontlounge.org/kindredclothing.