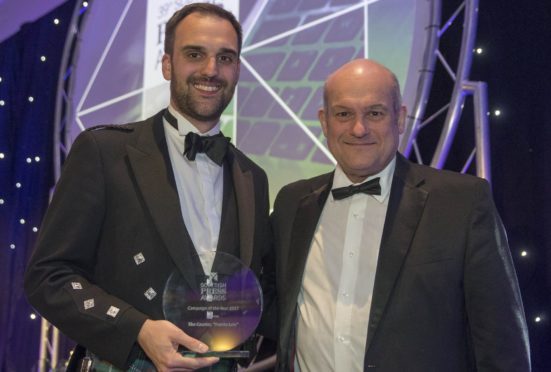 The Courier has scooped the prestigious campaign of the year title at the Scottish Press Awards following the success of "Frank's Law".
The campaign, which demanded free personal care for all, regardless of age, was finally agreed after years of tireless campaigning.
The Courier started its campaign following the harrowing case of  Frank Kopel, the former Dundee United star who died in 2014 following a battle with dementia.
His wife Amanda called for changes in the care system after being forced into financial hardship because her husband was not entitled to the same free personal care that over-65s receive.
The Courier threw its weight behind the campaign and eventually secured the cross-party support required to ensure new legislation would be brought it.
VIDEO: Here's how Frank's Law victory was announced to the world
The Courier's victory was announced during the annual Scottish Press Awards even, held in Glasgow on Thursday night.
CAMPAIGN OF THE YEAR
Runner Up: Daily Record, Blue Plague @Daily_Record
Winner: The Courier, "Franks Law" @thecourieruk pic.twitter.com/Ja5jzyFbRq

— ScotPressAwards (@ScotPressAwards) April 26, 2018
The Courier's former political editor, Kieran Andrews, was instrumental in the success of Frank's Law.
"At points it seemed like a hopeless cause, while the Kopel family paid £1,200 a month in fees so that Frank could see out his final days in his home in Kirriemuir, Angus," he said..
"The arithmetic at the Scottish Parliament changed following the 2016 election, however, and The Courier led the way exerting political pressure.
"A majority of MSPs now supported Frank's Law and Conservative shadow health secretary Miles Briggs was persuaded to submit a private members bill that had the numbers to pass even if the executive continued to withhold its support.
"Cracks began to show. Former SNP health secretary Alex Neil backed the campaign and the tone of ministers began to change. Prime Minister Theresa May called Amanda 'inspirational' in an interview with The Courier."
It was on September 5, 2017, that First Minister Nicola Sturgeon announced Frank's Law would come into force by April 2019.
"It is impossible to imagine the stress that a family will go through when they are trying to cope with a loved one suffering from a disease like Alzheimer's," Kieran continued.
"Finances will be one less thing to worry about for thousands of people now, though, thanks to the tenacity of Amanda Kopel and The Courier."