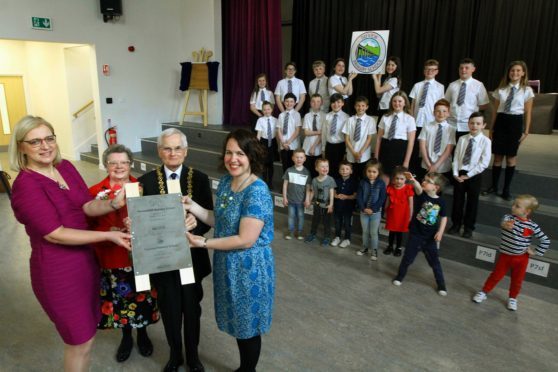 Dundee's newest school has officially opened its doors.
The launch of the £13.2 million Tayview Primary and Menziehill Nursery building was marked with the opening of a plaque by former Dundee City Council chief executive David Dorward.
Lord Provost Ian Borthwick also attended the ceremony.
The two storey three-stream primary school replaced the former Gowriehill and Hillside primary buildings, as well as the original Menzieshill Nursery.
It welcomed its first pupils in August 2017.
Children performed during the opening ceremony and helped to seal a time capsule containing mementos from the creation of their school.
The last item put into the capsule by Mr Dorward was the latest design for the school jumper.
The choir sang Bridge Over Troubled Water and Wonder, by Emeli Sande. Head teacher Dawn Archibald said both songs featured a theme of shining bright — an appropriate message for the pupils.
The opening also  featured a family fun day involving the wider community in the afternoon.
Ms Archibald said: "The children seem to have taken to the new school very well.  It was a great day."
She started at the school in December last year and said she was grateful for the time to settle in before the official opening.
"It's has given me the time to get to know the children and what they are capable of," she added.
SNP councillor Gregor Murray, Dundee City Council children and families service convener, said: "The official opening is a fantastic day for the community and a real cause for celebration.
"Seven new schools are opening in Dundee this year, representing a huge investment in the future of this city.
"We are committed to improving attainment and ensuring that even more of our young people are able to take advantage of new opportunities. The provision of a high quality learning and teaching environment for young people is an important part of these efforts."