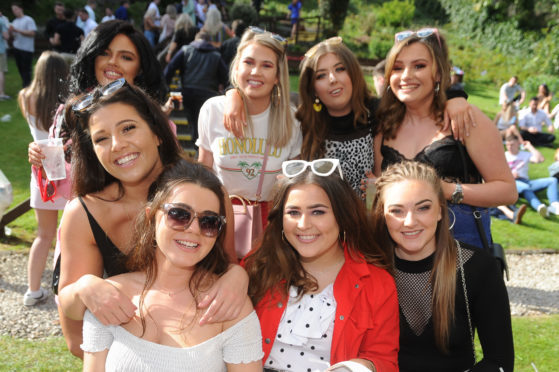 Almost 10,000 ravers packed out clubs and bars across Dundee on Sunday as the city hosted the UK's biggest multi-venue dance festival.
The Dundee Dance Event (DDE) celebrated its 20th anniversary in style with its biggest ever programme.
More than 150 DJs performed in 28 venues on Sunday.
The closing party at Dundee University Students Union is a 3,000 capacity sell-out with DJs from every city in Scotland playing in six different music areas.
DDE founder Mike McDonald said he has been "blown away" by how big the event has become.
He said: "Seeing the amount of people in the city centre and in the packed venues having a great time is what it's all about.
"It's a unique day in the calendar that many people look forward to and don't want to miss as it only happens once a year.
"As well as providing a mass showcase for some amazing DJ talent, it's also great that local businesses and charities benefit from the event.
"The geographical reach has grown massively over the past three years with more and more people are from all over the UK attending DDE and that can only be good for the city."
This year also saw a number of events organised on Saturday for the first time, with the event looking to reach out to a wider variety of people.
Mike added: "The DDE events which took place on the Saturday – Diaper Disco, Northern Soul and Sound Advice – were all really busy as well.
"They gave different age groups and families the opportunity to have a great time and experience another side to DDE, enjoying events tailored to them.
"It wouldn't been such an amazing weekend without the phenomenal support it receives from the people who attend, they've really taken DDE to their hearts and embraced the other events that have taken place too, I can't thank everyone enough.
"Also special thanks to all the DJs and artists and the many people connected with the event. There are so many who put in a ridiculous amount of work to make sure everything goes to plan and it's thanks to them that this bank holiday weekend was so special.
"My only disappointment is I'm feeling responsible for a few thousand hangovers today but I'm sure everyone will think it was a small price to pay for having such a great time."