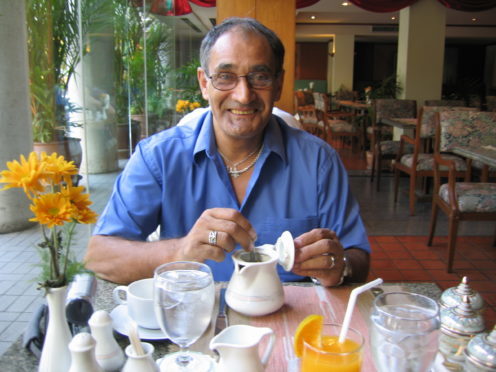 An orphan whose mother went into labour while in prison has appealed for information in Tayside as he now believes he has family ties in Dundee.
Mervyn Miller, 73, was put up for adoption after he was born three months premature while his mother was serving a sentence at HM Prison Edinburgh.
The young, unmarried woman was locked up in 1944 for shoplifting.
Mervyn said he has lived a "lucky" life and is not bitter about his upbringing but, upon retirement, decided to trace his family history.
He has now uncovered ties to Dundee, and is appealing for information from anyone who may have known his mother, whose birth certificate he has been unable to find.
He believes his mother, Irene Miller or Millar, was born in Canada, but he has been told she grew up and worked in Dundee.
Mervyn thinks his maternal grandmother travelled to Canada while pregnant, but had to return to Scotland shortly afterwards.
During his search he has discovered a cousin Freda and uncle Raymond, both from his mother's side, who live in Dundee. He has met Freda, but not Raymond.
Neither have been able to shed much light on his mother's life or upbringing or help with where he might find her birth certificate.
Freda's mother also lived in Dundee and Mervyn suspects she and his mother would have been well known for "hanging around together".
He said: "It would be a great satisfaction to know what happened to her. We just can't seem to find a birth certificate.
"If she worked in a jute mill or other factory, these are the types of places where everyone knows everyone so there might be someone out there in Dundee that knew my mother and can give us that breakthrough."
He has discovered his mother ended up in Liverpool working as a prostitute but that is where the trail has "gone cold". However, he suspects she left with a man to go abroad, possibly to Canada.
The identity of his father remains even more of a mystery, but as Mervyn is mixed-race, he believes a man travelling from either Pakistan, India or Sri Lanka, travelled to Dundee to work in the jute industry and met his mother that way.
As he was born with Spina Bifida, Mervyn believes the pressure of having to provide for a disabled, mixed-race child before the NHS was formed was the predominate reason his mother gave him up him at a few months old.
He spent the majority of his childhood at a children's centre in Gorgie, Edinburgh.
While upbeat about his experiences living in care, tragedy struck at 18 when he needed both feet amputated after a series of ulcers and fevers.
Having no relatives to sign paperwork on his behalf, he then started thinking about finding and contacting his birth mother. However, he did not act on this for another 50 years.
He began working with Birthlink, a charity that tries to help people affected by adoption access vital information, in 2016. He said they have been "absolutely brilliant" in helping trace his family tree.