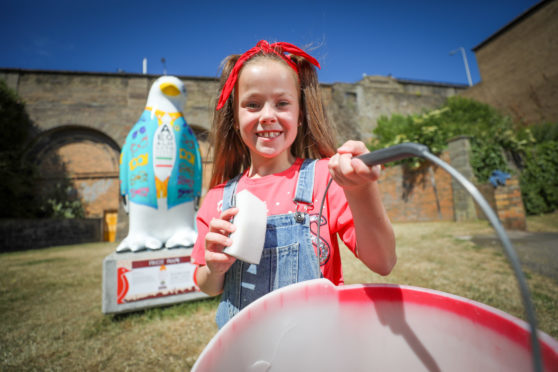 The mystery hero who scrubbed graffiti off a Penguin Parade statue has been revealed as ten-year-old Dundee girl Georgie Scott.
Georgie, a pupil at Clepington Road Primary School, took a sponge to Freeze Frame, the penguin statue at Victoria Bridge arches in Stobswell after it was vandalised.
Freeze Frame had been the schoolgirl's favourite penguin on the charity trail, due to its closeness to her grandmother's house.
She was said to have been "angry" with the vandals after seeing their nefarious handiwork.
Her dad, Andrew Scott, said: "I got a call from my mother on Sunday to say that the statue had been spray-painted and we went down to have a look.
"We were really angry about it, especially Georgie. We went out to see the rest of the trail later and Georgie said 'dad, I really want to clean the penguin, I feel really bad about it'.
"So we went and got a bucket of water, a sponge and some of the spray cleaner stuff. Georgie had a good scrub and the spray paint came off.
"It's her favourite penguin as it's so close to her gran's house, where she goes a lot of the time. She'd been really happy that there was a penguin statue so near."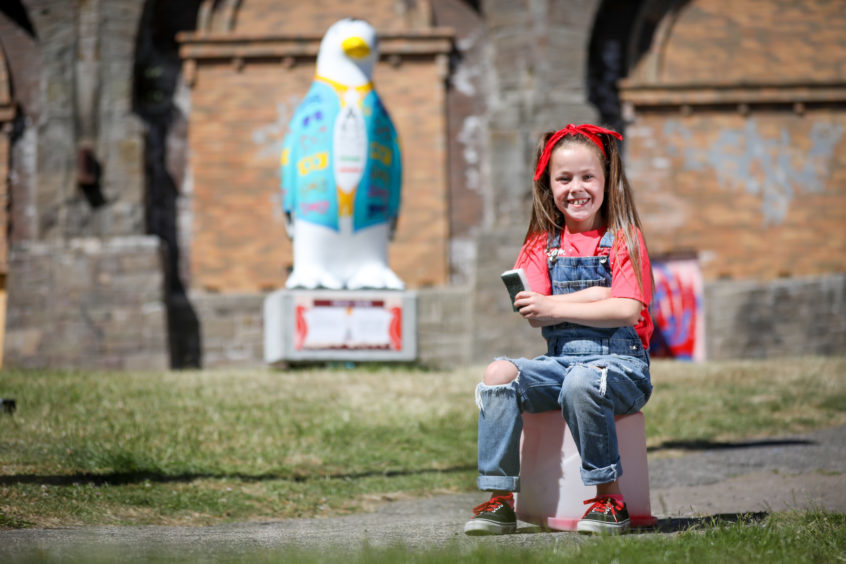 After Georgie had finished her work, another member of the public, Kris Galligan, tidied up and polished the penguin further.
Georgie's actions earned her praise from Dundee's city development convener Lynne Short.
She said: "I want to show Georgie that there can be silver linings and her efforts were very much appreciated by the councillors in the ward.
"Civic responsibility is so important and she obviously is a very thoughtful and kind wee girl."
A further two penguins were vandalised at the weekend but are expected to be back out in the streets in the next few days.
The Penguin Parade is in aid of Maggie's cancer centre in Dundee and features 80 statues dotted around Tayside.