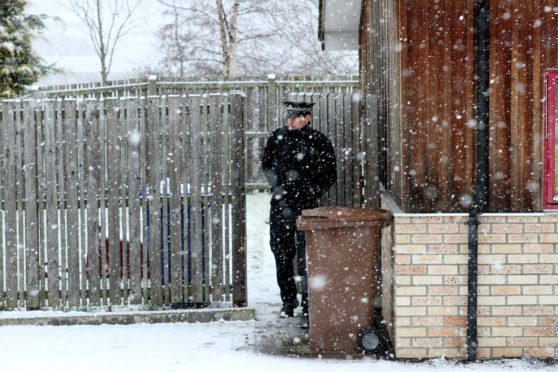 The trial of a man accused of carrying out a barbaric Valentine's Day attack on a disabled woman has been continued to allow experts more time to assess his psychiatric state.
Stephen Brisbane, 33, allegedly cut off Charleston woman Sandra McGowan's right hand after wandering into her sheltered home uninvited on February 14.
He appeared before Lady Scott at the Glasgow High Court on Tuesday morning.
Brisbane was told a lawyer would be offered to him, after he turned up to court from custody without legal representation.
The court also took the unusual step of ordering a third psychiatric report, after two "conflicting" background assessments were submitted to the Crown as evidence ahead of trial.
The first, completed by an expert at Murray Royal hospital in Perth, suggested Brisbane would be fit to stand trial and that a history of mental health issues was no barrier.
A second, compiled by a doctor at Carstairs state hospital, suggested he might not be able to stand trial and may also have been suffering from a mental health issue at the time of the alleged incident.
Addressing Brisbane, Lady Scott said: "So far there have been two psychiatric reports prepared.
"The first, from a doctor at Murray Royal has taken the view you do not have mental health problems but did suffer drug addiction issues.
"The second report by a doctor at Carstairs thinks you do.
"She raised two issues — firstly whether you can proceed to trial representing yourself.
"She also suggests you may have been mentally ill at the time of the alleged offence and in that case you may not be held responsible for your actions."
She continued: "We need to get a third report and we will not be able to deal with this today. It will have to be put off and I am sorry about it.
"In the meantime I will give you a list of people for you to speak to, a lawyer will come to see you when you return to prison.
"The reason it takes a while is that the psychiatrists take a long time to carry out reports.
"It is unusual but I would not be wasting my time, or yours without having one done."
Brisbane made no plea and was remanded in custody.
He will return to the High Court in Glasgow on September 9 for a further preliminary hearing.
It is claimed Brisbane assaulted Miss McGowan, causing her to fall from her wheelchair.
He is then accused of grabbing her wrist and severing her hand with a knife.
Prosecutors claim Brisbane then took the hand away, robbed Miss McGowan of a ring and failed to notify the emergency services that she was in need of medical treatment.
Brisbane is also said to have stolen a number of other items from Miss McGowan's home including a mobile phone and door fob.
The charge says Brisbane attacked Miss McGowan to her severe injury, permanent disfigurement and impairment and to the danger of her life.
He is also accused of threatening his sister at an address in Dundee and stealing a phone.