More than 200 people gathered for a colourful Together Against Trump rally in Dundee Town Square.
Armed with props and banners, the crowd was addressed by several speakers denouncing the American president and his policies.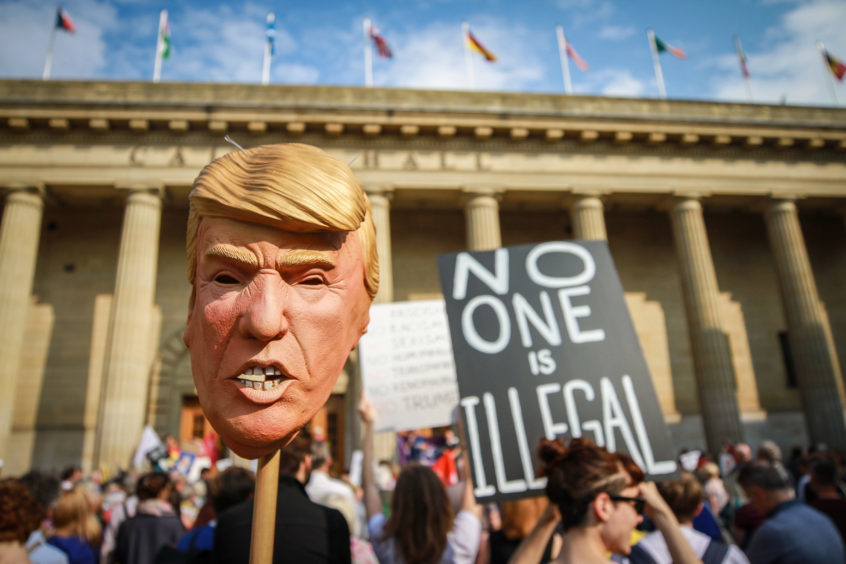 The peaceful demo ended with an impromptu march through the streets where chants of "refugees are welcome here" echoed off the walls.
Thousands of people also gathered in cities including Glasgow and London in protest against President Trump's visit.
Laura Galloway, 36, from Dundee, who brought her two children Oscar, 2, and Lucy, 4, to the demonstration said she attended the rally with her youngsters' future in mind.
She said: "When my children ask me what we did to try and stop all these horrible things from happening, I want to be able to say that we turned up and tried to make a difference.
"I understand that there are economical relationships to be maintained however there is surely a moral line that gets crossed where we shouldn't be welcoming him.
"Between the Muslim travel ban, separating children from their families and the Paris climate agreement, he's just an appalling, abhorrent human being."
Broughty Ferry schoolgirl Sahrah Bhatti, 10, said: "I asked my parents to bring me here so I can join the rest of the people.
"I am very happy today that we are united in freedom. He is inviting our anger and we as Scots should march for the principle of human rights.
"Building a wall to divide is only bricks – what about the people's hearts? The love is much stronger than hate."
But Douglas Hutchison, 82, who is originally from Dundee but has lived in America for 66 years expressed his surprise at the protest.
The Floridian said: "I voted for Trump. He said what he was going to do and he did it.
"He has stood up for the rights of American workers. I don't know what all this protesting is about.
"At least he does what he said he's going to do unlike Theresa May and other politicians who just waffle."
SNP Dundee West MP Chris Law  praised the crowds who gathered first in the City Square, before marching down Reform Street to Albert Square.
He said: "As you can see by the sheer strength in numbers, people are here to protest about his visit for a whole range of issues such as his national policies and his attitude towards Muslims, immigrants and women.
"While he lives in an echo chamber of his own people, we want to make sure there are voices outside of that and to send message not just to Trump but also the people in the US. They can be assured solidarity with all of us here today."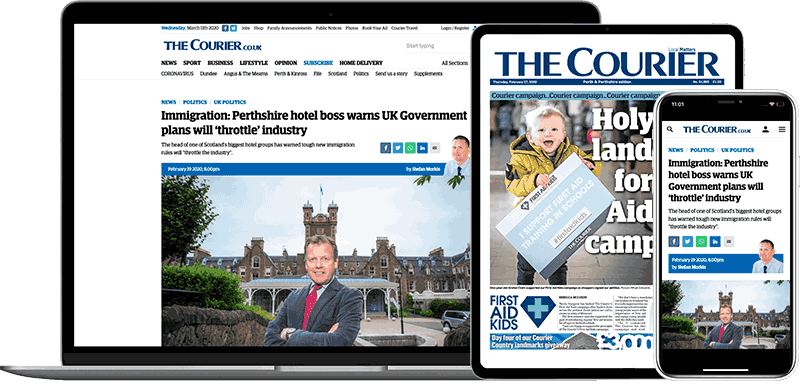 Help support quality local journalism … become a digital subscriber to The Courier
For as little as £5.99 a month you can access all of our content, including Premium articles.
Subscribe