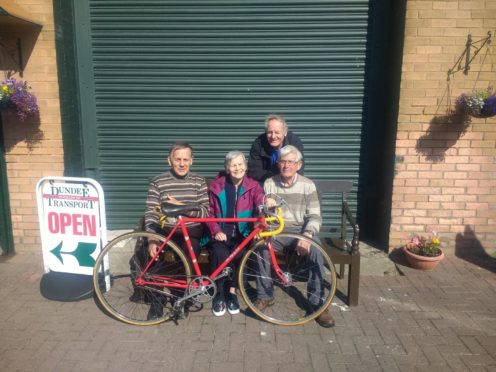 A bike once used by a Dundee woman to smash a Scottish 230-mile cycling record will take pride of place in the city's transport museum.
Lil Stewart, now 81, completed the gruelling distance in 1967 in just 12 hours, while riding the revered bicycle the Flying Scot.
Ms Stewart, who was a member of the Heatherbell Ladies Cycling Club and the Charles Star clubs, was one of the best known cyclists in Scotland during the 1960's and 1970's, winning the Scottish Championship in 1971-72.
She can no longer ride the bicycle due to health issues, so came up with the idea of donating it to Dundee Museum of Transport.
76-year-old friend Charly Mathers refurbished the bike so that it was suitable for display.
It will now be part of a special exhibit dedicated to Dundee women's cycling heritage.
Mr Mathers said: "She was quite famous and prominent in Dundee and national cycling.
"She was certainly a leading light and had an aura about her. Although she's not been too well recently, she recognised the bike after I'd refurbished it which was great.
"It's quite iconic. Every cyclist at the time aspired to have a Flying Scot. It was a top bike in those days."
Ms Stewart worked on the production line at ATM manufacturer NCR in Dundee while at the height of her fame, during which, she won a number of trophies and medals.
Her love for cycling sadly faded following a tragic accident on Dundee's Kingsway in the 1970s when her husband Jonny died in an accident while out on his bike.
"She lost her love for cycling for a while after that sadly," Mr Mathers said.
"They were inseparable — they used to cycle together all the time.
"It was a very tough time and she took a long time to recover. It really knocked the stuffing out of her.
"She did take it up again though and raced with the Scottish Veterans later in her life.
"She acted as a mentor to a lot of the younger cyclists who looked up to her.
"It's great to have her recognised in the museum, who could not have been more accommodating.
"After they'd heard all the stories, they felt the bike just had to be on display in the museum."
The bike was handed over to the museum on Friday by Ms Stewart, her twin brother Neil Hutchison, Mr Mathers, and fellow cyclist Lionel Wylie.
It will be put on display alongside Ms Stewart's dozens of medals and trophies.