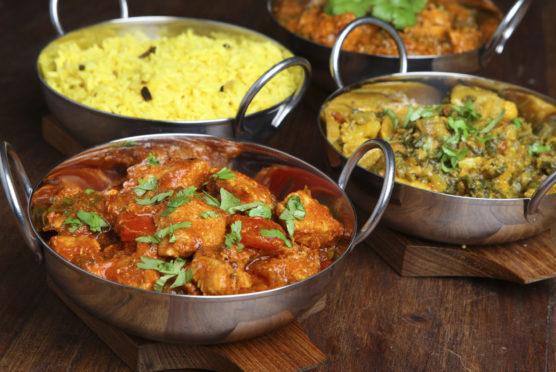 A curry from a Dundee restaurant which contained peanuts without an allergy warning could have caused "serious risk" to a customer.
Data released by Food Standards Scotland (FSS) showed a lamb passanda purchased in a city restaurant last year was found to contain the nuts — one of the most common food allergies — which in severe cases can lead to life-threatening anaphylaxis.
The curry in question also contained no lamb and instead consisted fully of beef.
The restaurant has not been named as it is exempt for disclosure under commercial interests, according to FSS.
The organisation added that samples can fail for a variety of reasons and that it may not be due to deliberate substitution.
A spokesperson for FSS warned of the dangers of failing to label food.
She said: "Peanuts in food products which are not labelled correctly could present a serious risk to consumers who have a peanut allergy.
"Peanuts are one of the 14 allergens which must be clearly identified on food labels.
"When results of sampling indicate a potential issue in relation to food labelling, the relevant local authority will investigate and take appropriate action as necessary."
The organisation carries out hundreds of tests every year on food and works with local councils across Scotland.
A Dundee City Council spokesperson added: "We work closely with Food Standards Scotland to promote the high standard of food safety and food hygiene that we all expect. This includes participating in coordinated sampling initiatives.
"Where standards fall short we take the appropriate action to ensure public health is protected, to resolve any issues found and to prevent recurrences of similar problems, as was the case with the business referred to in recent media articles."
The information came to light after an investigation by the BBC found 8% of the 631 tests in Scotland last year was found to contain the DNA of an animal not listed on the labelling.
Another test in 2017 found "cooked lamb" from a different restaurant in Dundee to contain no lamb at all — only beef.
And barbecue pork spare ribs tested from a "primary producer" in Falkirk were found to be chicken.
It comes after 15-year-old Londoner Natasha Ednan-Laperouse died after eating a Pret a Manger baguette in 2016.
The teenager had an allergy to sesame protein with the seeds believed to have been baked into the baguette and not labelled as an ingredient.
A second customer is also believed to have died from an allergic reaction to a product bought from a Pret store in 2017 with the chain currently investigating the circumstances.