The exterior of one of Dundee's most famous and prominent buildings is to be upgraded as part of the city's £1 billion waterfront development.
A new LED-illuminated sign is to be installed on the south facade of the Caird Hall, Dundee's century-old concert and event venue.
The writing, which will display the building's name, will closely match that currently in place on the north side.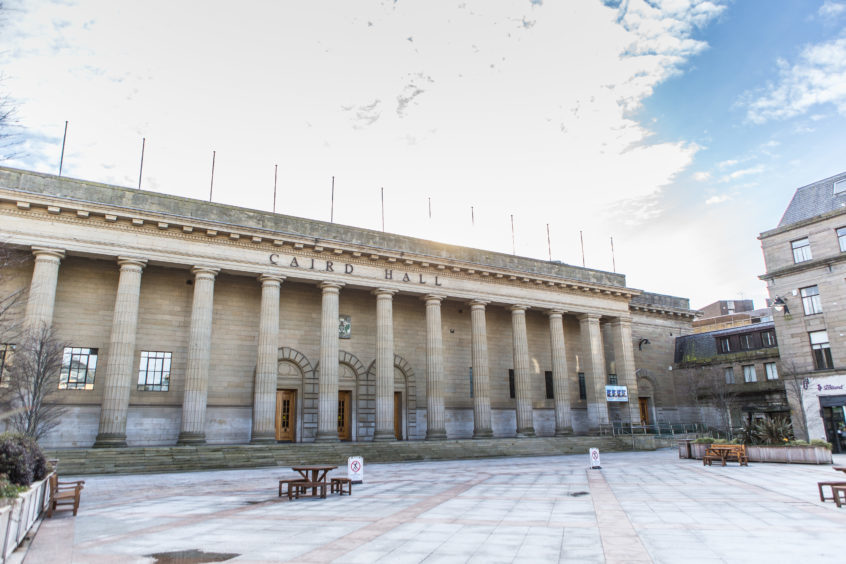 More ambitious plans to illuminate the entirety of the south facade with architectural lighting has been put on the back burner due to "financial constraints".
The city council said the Grade 'A' listed building needed to be "enhanced" after the waterfront development "opened up" the area at the back of the building.
An application prepared by the council's city engineer details the proposals, which have been passed by planning officers.
Lord Provost Ian Borthwick welcomed the move to upgrade a "very important" city building.
---
>> Keep up to date with the latest news with The Courier newsletter
---
He said: "It will be vital that any changes don't detract from the building and I'd hope the greatest care is taken.
"I'm sure the planning officers responsible will make sure that's the case. It's a very important piece of architecture in the city.
"The foundations were laid in 1914 and it was completed shortly after the First World War."
The 500mm-high cast bronze letters will be positioned between the ornate castellations.
Historic Environment Scotland (HES) were consulted but the organisation said it had no comment to make on the plans.
The council's planning proposal states the building is an important part of the £1 billion waterfront regeneration.
It says: "The central waterfront is the focal point of the project which has involved the demolition of bridge ramps, roads and buildings, which previously separated the city centre from the waterfront.
"In their place, a new grid iron street pattern, green civic space, and attractive boulevards have reconnected the city with the waterfront to produce a stunning space that will be dominated by the award-winning V&A.
"The demolition of adjacent buildings and the completion of infrastructure has provided a large public open space extending from the Caird Hall south facade to the Tay River.
"The building is to be clearly identified by visitors arriving from the south by provision of illuminated letters similar to the signage on the north elevation."
It is also hoped remote controlled black-out curtains can be installed at the windows in the upper facade of the hall once extra funding is sourced in the future.