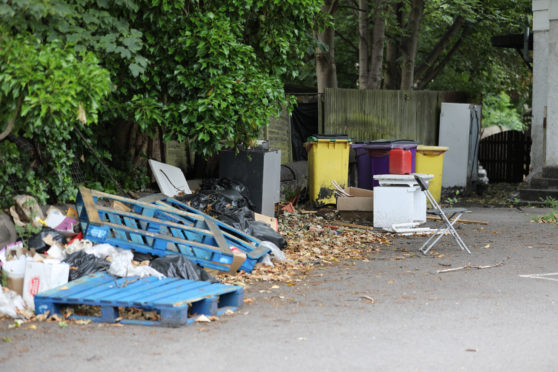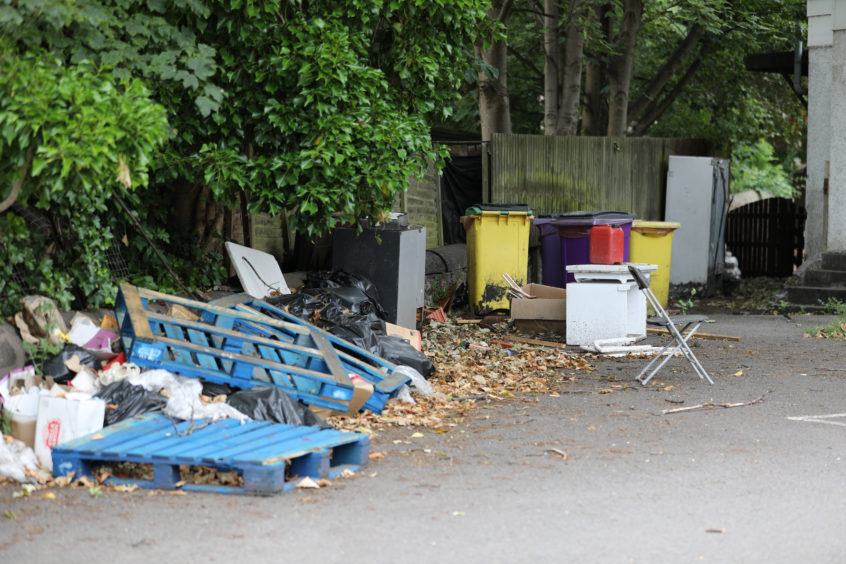 Fly-tipping in Dundee is on the rise as the council struggles to pin down those responsible.
The local authority received 904 complaints from the public last year — an increase of more than 5% on each of the two previous years  — while the number of fines handed out has halved over the same period to just 14.
This equates to just over one fine for every 100 times rubbish is dumped illegally.
Broughty Ferry councillor Craig Duncan has in the past highlighted fly-tipping on the West Pitkerro Industrial Estate and nearby farms in Linlathen.
He said those responsible have "no consideration" for the environment or for the cost of cleaning up the mess.
He said: "The rates for getting rid of rubbish are pretty reasonable.
"Unfortunately some people in life just won't shell out a tenner if they don't have to.
"They seem to take great satisfaction in pulling a fast one.
"Well, I take greater satisfaction in seeing them prosecuted."
The south Angus border with Dundee has become the main combat zone in the area's war against fly-tipping.
The Monifieth and Sidlaws boundaries have been worst affected with farmers in the areas previously speaking out about the scale of the problem.
Mr Duncan added: "It's not good to see and it does annoy me.
"There's obviously been a spate of fly tipping in Angus recently.
"But it's all over the city too."
Andrew Llanwarne, from Friends of the Earth Tayside added: "It's clearly regrettable that fly tipping continues to be a serious issue affecting the quality of the environment around Dundee, with evidence from the number of complaints that there are increasing numbers of incidents."
North East region Scottish Conservative MSP Bill Bowman said the issue "seriously affects our quality of life and the environment".
"There is a massive financial cost associated with cleanup, and a massive ecological one," he said.
"Anyone who is too lazy to visit a recycling centre or skip should hang their head in shame."
A spokesperson for Dundee City Council said: "So called fly tipping is an anti-social behaviour that blights the communities and areas where it happens.
"Anyone who does it is also acting illegally and the council has robust procedures to try to deter this selfish and dishonest activity including issuing a fixed penalty notice or reporting culprits to the Procurator Fiscal who has the power to fine up to £40,000.
"You can report fly tipping on the council's website at https://www.dundeecity.gov.uk/service-area/neighbourhood-services/environment/fly-tipping."