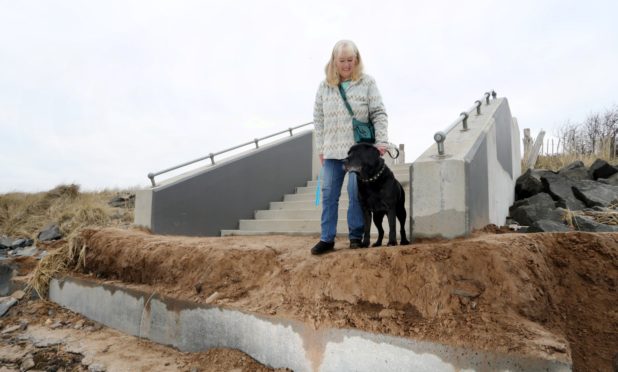 The appearance of a "mystifying" concrete block on Broughty Ferry beach has occurred naturally, according to Dundee City Council.
Kellas resident Marilyn Mauran was "shocked" while walking her dog on New Year's Day only to be faced with a large concrete beam at the bottom of stairs leading from the beach.
She had to clamber over it and was left exhausted as a result.
A council spokeswoman said the beam has been revealed "naturally" and is part of the stair's structure.
She added that it should be fixed when the tide brings in more sand and that "the steps will be taped off until the beach levels rise".
However Ferry councillor Craig Duncan has said that more needs to be done to ensure a secure access to the beach.
Ms Mauran had assumed it was because of work being done by a flood defence team just before Christmas, but the spokeswoman insisted there is no connection.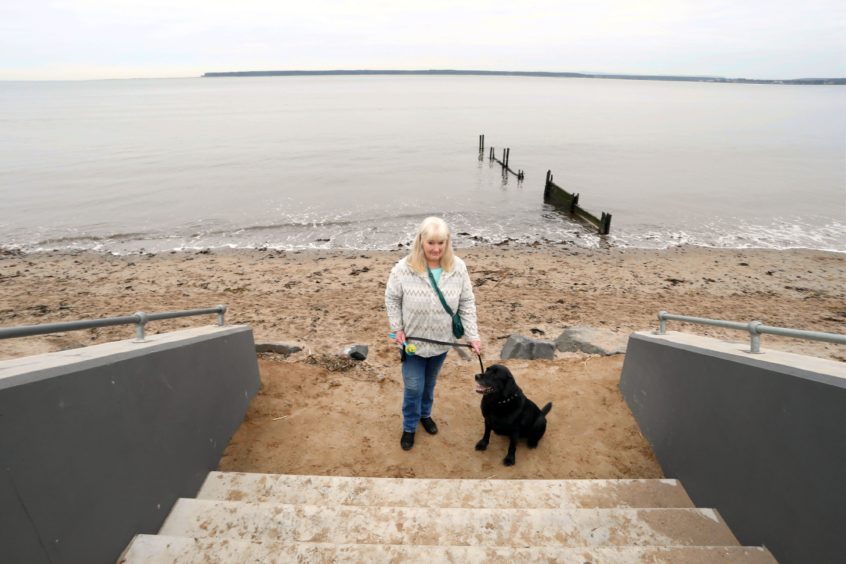 "I couldn't believe it when I saw it," Ms Mauran said.
"I thought the tide is in so I am going to treat the dog and take him for a swim.
"I went down by where the Glass Pavilion restaurant is and then walked towards the stairs.
"There had been signs a few weeks ago saying there was work being done, but they are all gone now.
"When I saw it I thought how am I going to get up there?
"I had to climb over it to get to the steps, and they are bad enough as it is. I'm 5″1′ and I can't reach the handrails and the steps are too steep.
"The steps are too high and the rail is too far away to be of any use.
"When I got to the top there was a bench and I thought I need a seat after this.
"When I was sitting down a gentleman came by and he said it's been like this for a few days.
"It must be really bad for elderly people or anyone with children.
"As hard as it was, if I wasn't able to climb there stairs then I would have needed to go all the way back on myself to get to my car.
"I don't know why they put the stairs there in the first place. It was better when it was just a ramp.
"When the stairs went in place everyone in the area was wondering why the council wasted their money on that."
Liberal Democrat councillor Craig Duncan said he found it a bit "mystifying" when he first saw it.
He said: "At the moment it's a stairway to nowhere.
"On one hand I want to know what has gone on there, and on the other I want something done about access in that part of the beach.
"At the moment, anyone with mobility issues will not be able to get to the beach.
"It is one of the greatest assets in the area and stairs that can't be used are worse than no stairs at all.
"I have asked the head of environment about this and he said he will look into it personally."