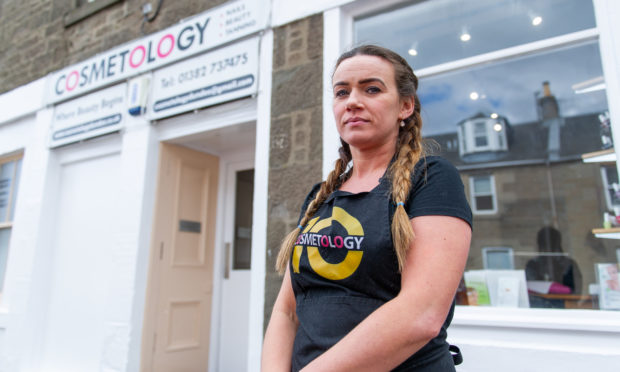 A beauty salon has been vandalised in a "malicious" paint attack.
Cosmetology, on King Street in Broughty Ferry, had its windows, signs and pavement at the front of the entrance covered in what appears to be black chalk paint.
The incident is thought to have happened some time between 8pm on Sunday and 8am on Monday and has been reported to the police.
A social media campaign calling on anyone with information to come forward has been mounted.
The shop owners branded the incident a "malicious attack", coming shortly after work began to renovate the shop front.
The area had been prepped on Saturday and an undercoat was ready to be applied on Monday.
As well as notifying the police, shop staff have made inquiries with neighbours and CCTV is being scoured in a bid to identify those responsible.
Manager Gemma Leonard said she and her five staff members were undeterred by the incident and the salon was open for business.
She explained: "I saw the paint when I opened up on Sunday morning.
"It looks like chalk paint and it was splattered up on the front of the shop, on the windows, on the sign and on the pavement.
"I was shocked to see it and also disappointed by it. We've been here
11 years and we've never had any issues like this."
Gemma added: "We did think it was unusual for someone to throw paint but have no idea who it could be or why.
"We haven't had any complaints or trouble with anyone.
"The CCTV might show it – we haven't had a chance to look yet as we've been so busy.
"We're really disheartened by it all but we've been open for business. We're not letting this stop us."
The mess has now been cleaned up and painted over, with the remedial working costing in the region of £400.
A further statement on the shop's Facebook page said: "We appreciate if you can share this notice to raise awareness and if anyone knows any information that can help us in this investigation please come forward."
A police spokesman said: "We are aware of the incident and are making inquiries."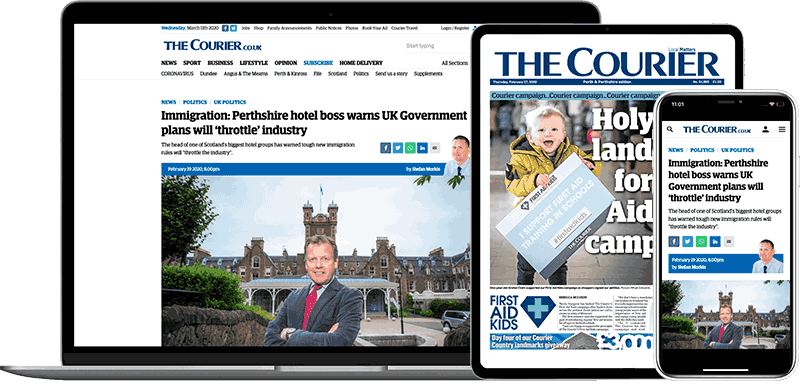 Help support quality local journalism … become a digital subscriber to The Courier
For as little as £5.99 a month you can access all of our content, including Premium articles.
Subscribe