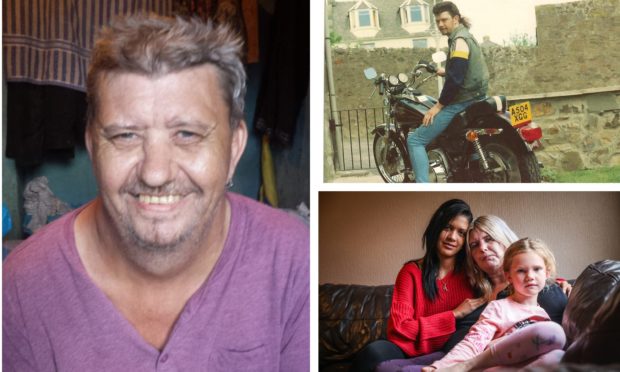 A Dundee woman who watched in agony as her dad starved to death in impoverished Venezuela has thanked all those who helped bring his remains home to Scotland after a two-month wait.
60-year-old Frank Murray died following a short battle with throat cancer in April in the South American country, which is experiencing mass food and water shortages as well as power outages.
His daughter Deborah had fought in vain to help him get out of Venezuela, where he was unable to access appropriate medical care.
Frank's other daughter Annie, who was still living in neighbouring Peru and had never visited Scotland, has finally managed to bring his ashes to Scotland with her, after donations from friends and family.
The 21-year-old, who does not speak any English, will now stay permanently in Dundee's Craigie area with Deborah and her seven-year-old daughter Tayluer.
Despite speaking regularly, the moment Annie stepped off the plane in Scotland was the first time the sisters had met in person.
Deborah, who only found out about his cancer in December last year, spoke of her relief that the family was now together and could hold a funeral and celebrate Frank's life with all those who loved him.
Deborah said: "One of the last things my dad said to me was that he wanted to be buried with his mum.
"As I watched through video link, he looked at me, put his hand on his heart and then he passed away.
"It was so hard to watch. He went through so much. I'm glad I have him home now. He was only 60. It's such a waste."
The standard of care in the country meant granddad-of-one Frank, who had lived there for 20 years, could not access either radiotherapy or chemotherapy and his condition rapidly deteriorated.
The country's shortages meant medics had to use incorrectly-sized tubing in his throat following a tracheotomy.
In his last months he could not speak and was being fed through a tube.
Electricity supply problems throughout the country meant food could not be liquidised for him to eat and ultimately he passed away from starvation after 10 days on April 6.
Deborah struggled to pull together enough money to have his ashes returned but eventually a combination of loans and £1,500 in donations from friends and family allowed Annie to fly back with them.
Deborah, who says her Portuguese friend has promised to teach Annie English, added: "I have been supporting Annie since she was born so she has always been a part of my life.
"All three of us are a family now here. We hope this is the last of the struggles."
Annie had to drop her whole life, including her journalism studies at university in Peru to move to Scotland and admitted she was terrified boarding the plane.
Speaking through a translation app, she said: "It was a difficult decision but for the best.
"Venezuela over the last five years has been going through an economic and humanitarian crisis.
"Life is hard and very expensive. I hope to learn English, get my British passport soon, and settle here."
Frank's funeral service will be held at Balgay Cemetery, on Monday, June 17, at 11 a.m.
This will be followed by refreshments at Tayport Arms where he used to drink with his friends.