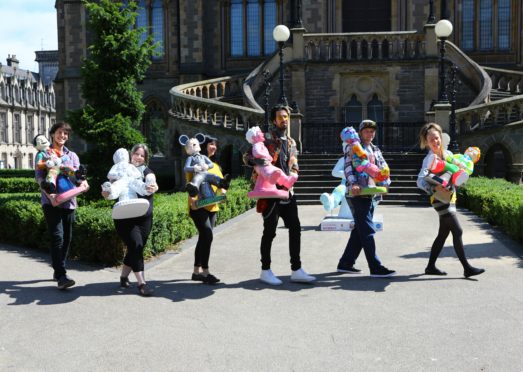 An army of wee Oor Wullies are set to join the full cast of sculptures across Dundee as part of a national fundraiser for sick kids.
The five miniature versions, which feature designs from Frankenstein to tattoo art and a bit of bling, will be available for events such as fetes and shows.
It follows the launch of the Big Bucket Trail, which has seen more than 200 individually-designed Oor Wullies placed across Scotland.
They will all be auctioned off at Dundee Rep on September 16 with all funds raised in aid of Scotland's children's hospital charities, including The Archie Foundation Tayside.
The miniatures, named Wandering Wullies, are the same size as those designed by local schools and community groups.
They begin their adventures today at DC Thomson HQ at Meadowside, home of the beloved Sunday Post comic strip character.
When they are not out and about they'll spend some time at the Oor Wullie's BIG Bucket Trail shop in the Wellgate.
Suzanne Scott, art director for the trail said: 'These Wee Oor Wullies are excited to get started on their adventures. The artists had a braw time creating colourful and bold designs for these special Oor Wullies, and now they're ready to begin their adventures, bringing smiles to people out and about across the city and beyond.
"We can't wait to see what they'll get up to on their travels!
Katie Kyle, partnership manager for The ARCHIE Foundation, added: 'These wee Oor Wullies are perfect for sponsors who are planning fundraising events at their businesses, for community groups holding fetes or shows, or community groups who would like the chance to share the joy of the trail. We are looking forward to hearing lots of interesting ideas for where they can visit!
'We expect them to prove very popular so we would urge anyone who is interested in having a visit from wee Oor Wullies to get in touch as soon as possible and we'll do our best to get round as many as possible."
The ARCHIE Foundation is appealing for anyone who is fundraising for the charity, or has any ideas to bring the trail to those who might not otherwise be able to participate, to get in touch.
Those interested in hosting the Wandering Wullies can contact Katie by emailing katie.kyle@archie.org