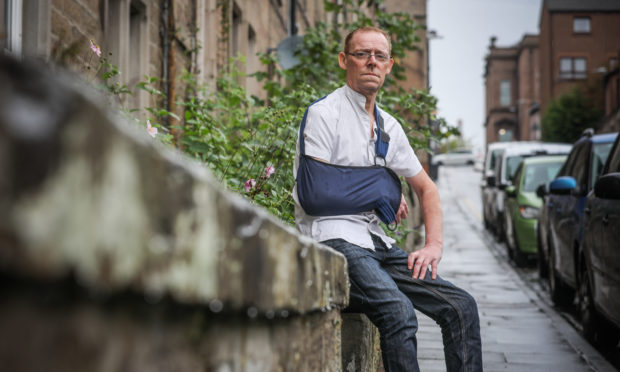 A chef has been left unemployed for Christmas after breaking his collar bone on an uneven Dundee pavement.
Stephen Muir, 52, was on his way to work at Queen's Hotel on Perth Road last week when he suffered the serious injury on the cracked Step Row pavement.
Despite being just six days into his new job, the accident has left Stephen "black and blue" and out of work over the festive period, as his collar bone could take up to eight weeks to heal.
Residents have complained about the state of the pavements, saying it is difficult to walk on either side, due to parked cars or broken and uneven terrain.
The fall left Stephen lying in the street for some time, until a local doctor spotted him and called for help.
Stephen said: "I left the house at 5.30am and the next I remember it was 7am and I was in hospital. I must have blacked out for a while before someone found me.
"I am in constant pain and have been left black and blue.
"I've lived on this street for 20 years and other residents have always complained about the state of the street.
"On one side you can't get moving on the pavement for parked cars and on the other side its so cracked you could seriously hurt yourself."
His injury meant Queens Hotel had to find a replacement to cover the busy period and  Stephen said he understands the decision and they have promised to try find work for him in December.
He said: "I was looking forward to working Christmas. I don't have a family so I fair enjoy working the festive period because of all the parties and it's just enjoyable.
"Financially, things would have been a lot easier too as I was looking forward to buying nice presents for everyone."
West End councillor Fraser Macpherson said he has received complaints about Step Row over the years.
He said: "I am dreadfully sorry to hear about this gentleman's accident and I hope he makes a full recovery.
"It always concerns me when there is a road or pavement related incident that results in accident. I will be reporting the area of the incident to the road maintenance partners to ask them to carry out repairs."
A spokesperson for Dundee City Council said: "The council has a duty to manage and maintain public roads and footways in its area.
"It carries out safety inspections to help identify and rectify hazardous defects in a timely way, in line with best practice and within available resources.
"When incidents of this type happen they can be reported to the council."