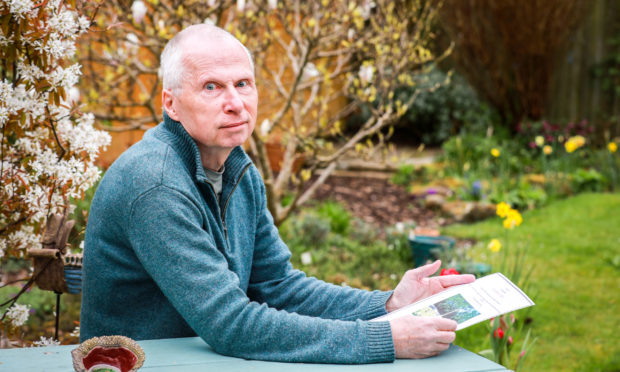 A Fife descendant of the nurse who has given her name to Scotland's temporary coronavirus hospital has said it is a fitting tribute to his great aunt.
St Andrews resident Murray Crone is the great nephew of Louisa Jordan, the nursing sister who bravely cared for troops and colleagues as a typhus epidemic raged in Serbia during the First World War.
Miss Jordan was born in Glasgow but went on to work as a district nurse in Buckhaven, where her name can be found on the local war memorial.
Mr Crone, 64, said: "She has been well chosen because of what she did when she was in Serbia with Scottish Women's Hospitals.
"As well as looking after the troops they were looking after each other.
"She was in charge of a ward and was looking after one of the doctors who had fallen ill from typhus, and she herself succumbed.
The NHS Louisa Jordan is being set up in Glasgow's SEC to provide additional hospital capacity during the Covid-19 pandemic.
It will initially have 300 beds but has the potential to accommodate 1,000 patients if needed.
Miss Jordan died just three months after leaving Buckhaven and signing up as a nurse with Scottish Women's Hospitals for Foreign Service.
She left for Serbia shortly after enlisting and found herself in the city of Kraguievac as the whole country was in the deadly grip of not just war but an epidemic.
She worked alongside Dr Elizabeth Ross at the First Military Reserve Hospital, which had been made a dedicated typhus hospital.
Dr Ross became infected with typhus and died in February 1915 on her 37th birthday. Miss Jordan died just a few weeks later at the age of 36 and is buried at the Chela Kula Military Cemetery in the Serbian city of Nis.
Mr Crone, who only found out about the naming of the hospital in Glasgow after it was announced, started researching his family tree three years ago and has been looking into his great aunt's story.
He added: "My parents had known about her and also went on a little pilgrimage to her grave in Serbia.
"The family did have a diary of hers but unfortunately it was lost. That would have been a great thing to have."
Willie Rennie, Lib Dem MSP for North East Fife, said: "This new temporary hospital will provide the extra capacity our NHS needs to deal with the demands on the service caused by the virus outbreak.
"Sister Louisa Jordan, a nurse in World War One, is part of Scotland's medical history. It is really welcome that she has been celebrated by naming the hospital after her. It brings her story to a whole new group of people who may not have come across her otherwise.
"Like those working in our NHS right now, she showed bravery while serving in Serbia and dedication to her profession."