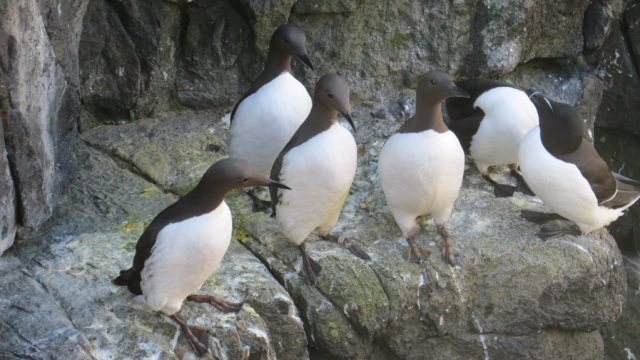 The UK's oldest recorded guillemot has ruffled feathers on a Firth of Forth island.
At the age of at least 34, the seabird, which has touched down on the Isle of May, was around when the Falkland War was raging.
It has beaten by at least two years the previous record of the 32-year-old guillemot found dead in Sweden in 2011, which was ring on Fair Isle in 1979.
However, the May guillemot was already an adult when it was ringed in 1982 so it could be even longer lived.
Professor Mike Harris, who is one of a team of scientists who study the 250,000 seabirds which nest there each year, discovered the aged bird.
It has prompted discussion about the lifespan of seabirds, as the average guillemot is expected to live to 23.
David Steel, manager of the Scottish Natural Heritage national nature reserve, said: "It's staggering to believe as this bird is now at least 34 years old and eclipses the longevity record for the UK of a guillemot ringed on Fair Isle in 1979 which was found freshly dead in Sweden in 2011, making that bird 32 years of age.
"Seabirds are incredibly long lived and even now we are still discovering so many new fascinating facts about the lives of these birds.
"All part of the science and another reason why the Isle of May is so important."
Guillemots are medium-sized auks which breed in tightly packed colonies on cliff tops and rocky outcrops, laying eggs in May and June.
Studies of seabirds including the iconic puffin have been undertaken on the May Isle for decades
Scores of volunteers go to the island each year to help scientists based there.
It is a monitoring site for the Centre of Ecology and Hydrology and Mr Harris began a detailed study of the population biology of puffins there in 1972.
Each year he records how many puffins have returned, how many eggs they lay and how many chicks are reared, giving valuable insight on the state of the species in the north-west Atlantic Ocean.