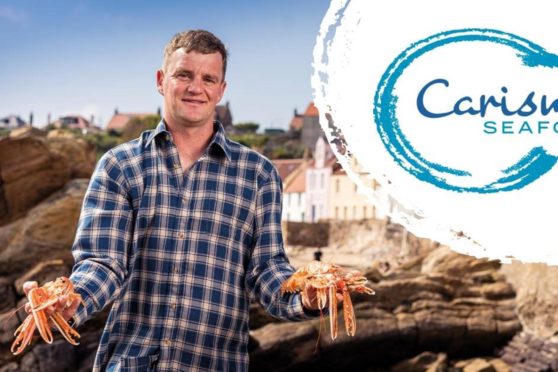 A close-knit Fife coastal community has pledged to rally round behind a local fisherman who literally watched his livelihood wrecked over the weekend.
Kirk Doig was one of two crew rescued by the RNLI in the early hours of Sunday morning after his prawn trawler Carisma lost power and ran aground on rocks just outside Pittenweem Harbour.
Two crew rescued after fishing vessel runs aground off Fife coast
Mr Doig only launched his own, sustainable seafood operation earlier this year after Covid-19 had a devastating impact on local fish markets, setting up Carisma Seafood to deliver fresh langoustine, lobster and crab up and down the east coast the same day it was caught.
News of the Carisma's sinking has hit the community hard and it was the second boat in just over two months to suffer significant damage after hitting rocks at Pittenweem.
Local people have expressed relief no-one was hurt in either incident and have sent dozens of messages of support to the hard-working fisherfolk in the East Neuk.
Local councillor Bill Porteous said he had passed on his good wishes to Mr Doig and said local people would help out in any way.
"It's proof that fishing is a dangerous industry and we're lucky that in this case there were no injuries or fatalities.
"I'm delighted that was the case but it's bad news for a growing young business that may have lost equipment and their boat. I hope that the community can come together and support them."
The Marine Accident Investigation Branch (MAIB) is expected to launch a probe, although it is understood the alarm was raised when the Carisma suffered a fouled propeller and ran aground a short time later in wet and windy conditions at around 6.15am.
Both lifeboats from the RNLI station at Anstruther launched and crew members evacuated the two fishermen from their stricken vessel.
Neither required medical treatment and they were handed over to the UK Coastguard ground team in Pittenweem Harbour.
Although it is believed some equipment was salvaged, the boat slipped below the waves after taking on too much water.
Mr Doig has not yet commented on Sunday's incident but had been hugely enthusiastic about his new venture before it was launched in August.
East Neuk fisherman launches service to deliver fresh langoustines and lobster on the same day they're caught
"Before lockdown we fished on a quota system with fishing commencing on a Sunday night, working four to five shifts depending on the weather," he had said.
"The struggle for enough boats meant relying on long hours and tedious graft, landing enough of a catch for factories who pay little for a premium product.
"I specialise in catching langoustine but I'm also able to help other East Neuk creel fisherman by selling their lobster and crab within hours of coming ashore, unlike the larger, commercial fishing operations where the majority of the catch is frozen and destined for overseas fish markets in Europe.
"We have really turned the fishing formula on its head and rather than meeting quotas I am now fishing to order."