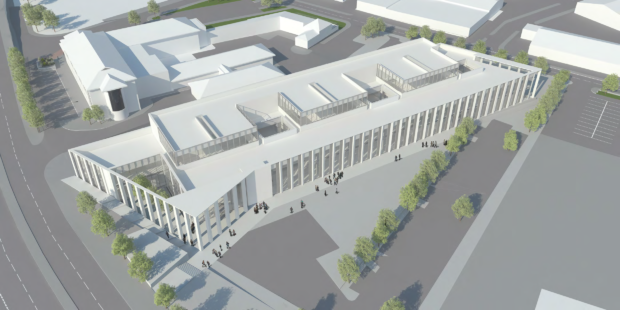 Calls for Fife to be next in line for a state-of-the-art justice centre have been renewed as work starts on a multi-million pound facility in Inverness.
Construction has officially begun on the £30 million Inverness Justice Centre, which will see the courts service move out of Inverness Castle and into the new purpose-built building between the city's Longman Road and Burnett Road.
The now-Scottish Courts and Tribunal Service (SCTS) said in 2012 there was the need for such a centre in the Kingdom, describing the accommodation available at Kirkcaldy as "not of the standard we would wish".
The Courier also revealed last year the SCTS was considering moving jury trials from the town's sheriff court to the local police station due to concerns over the suitability of current facilities at Kirkcaldy.
Mid-Scotland and Fife MSP Claire Baker, said: "Six years have now passed and still Kirkcaldy is waiting for the state-of-the-art justice centre that it deserves.
"We are now seeing the beginning of work on such a centre in Inverness and this is only possible due to funding from the Scottish Government.
"If the Scottish Government is committed to delivering a justice system that is accessible, modern and fit-for-purpose, then they must heed the Scottish Court's own report and commit similar funding towards a centre in Kirkcaldy.
"We are seeing significant delays in Fife and the more the Government dithers, the more Fifers are failing to see justice delivered locally."
Statistics released by the MSP at the turn of the year claimed that the number of adjournments of criminal trials was up 14% on last year and 65% in the past five years, while adjournments due to lack of court time had also gone up in the same period.
"Whilst other areas of the country are seeing their justice system adapt to modern times, Kirkcaldy is left with a building trying to cope with a lack of space, poor equipment and the potential for witness and accused to pass in the stairwell," Mrs Baker added.
"Kirkcaldy Sheriff Court is no longer fit for purpose and we can't keep papering over the cracks.
"We need a long-term solution and the Scottish Government must now commit to delivering a justice centre fit for Fife."
The SCTS said the creation of the Inverness Justice Centre will set a new standard for future provision of services and said it hoped to replicate the approach in other areas.
However, it noted that a full scale centre for Kirkcaldy would come at "significant cost" and would require many years of planning.