VIDEO: Tayside RAF veteran who was 'lucky' to make it past four-days-old celebrates turning 100
An RAF veteran says the trick to staying fit and healthy into old age is "keeping busy" as he celebrated his 100th birthday in Perthshire.
Tom Lennox marked the milestone surrounded by his family with a special concert at Balhousie Luncarty Care Home on Tuesday.
The centenarian, who has five children, said he was "over the moon" to reach 100 – especially since his parents thought he would not even make it past four days old.
He added: "I'm lucky to be here because on my fourth day I got pneumonia and in those days only 1% recovered. But I recovered and I've now got 27 great-grandchildren. That's good style for you.
"I never thought I'd reach 80 never mind 100."
Tom was born in Cumbria in 1919 into a farming family and is the last of 12 children.
In 1937 he joined the Royal Air Force and during World War II was stationed at bases across the UK before a three-year stint in Canada with the 210 Squadron.
Prior to departing across the Atlantic, he met his future wife Mary in her Oban hometown.
The couple were not reacquainted until his return to Scotland from Canada. Upon Tom's arrival back on Scottish soil, they married within days.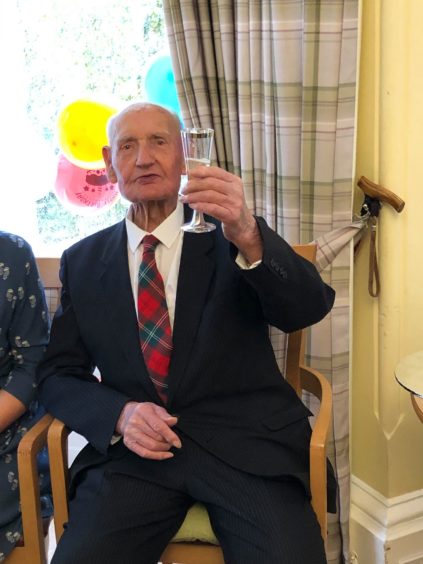 Tom said: "I trained as a metal rigger. I was on the flying boats and because of my experience they seconded me into the Fleet Air Arm.
"I was very pleased because I was brought to Oban and that's where I met my darling wife. We were happily married for 63 years.
"At the Argyllshire Gathering Hall the girls used to come down at the weekends and help dish out biscuits and cake for nothing.
"I walked in and we just hit it off like that and we were married within seven days, but after three years waiting for me."
Tom settled in the Highlands and took on a job as a mechanic until his retirement aged 65.
He has a passion for radio, gardening, classical music and walking.
Tom moved to Luncarty four years ago to be closer to three of his children who have settled in Tayside.
He said the key to staying sharp into old age is to "always keep busy".
"There is not enough hours in the day for me," he added.
"I've got this to do, that to do, and the next thing to do."
A concert was held to celebrate Tom's 100th at Balhousie Luncarty Care Home with music provided by Music in Hospitals and Care Scotland, who played some of his favourite tunes.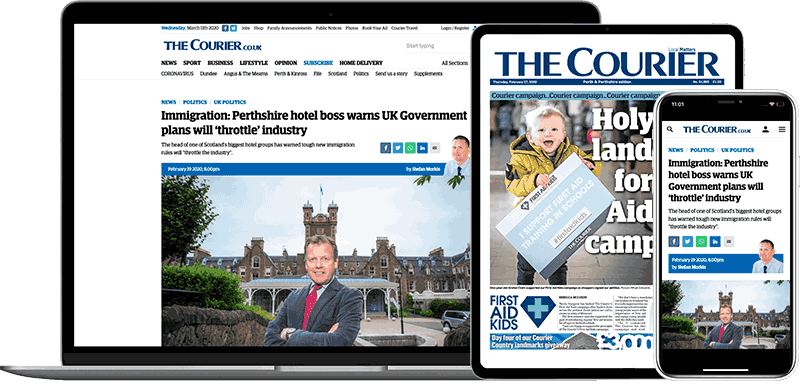 Help support quality local journalism … become a digital subscriber to The Courier
For as little as £5.99 a month you can access all of our content, including Premium articles.
Subscribe