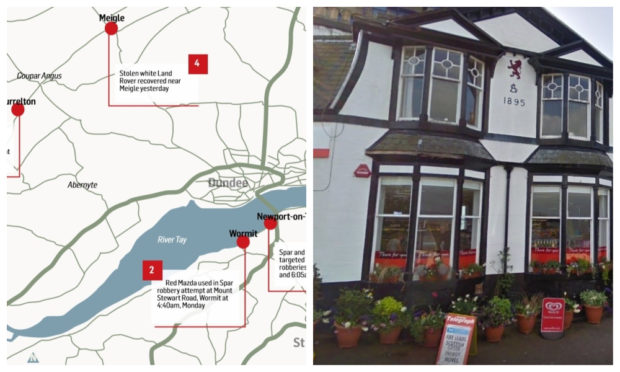 Police are hunting thieves who went on a crime spree across Tayside and Fife, stealing two cars in Perthshire before targeting shops in a series of attacks.
The gang stole two cars in Burrelton, near Perth, in the early hours of Monday morning before using one of the vehicles during an attempted break-in at a Spar in Wormit, Fife, around four hours later.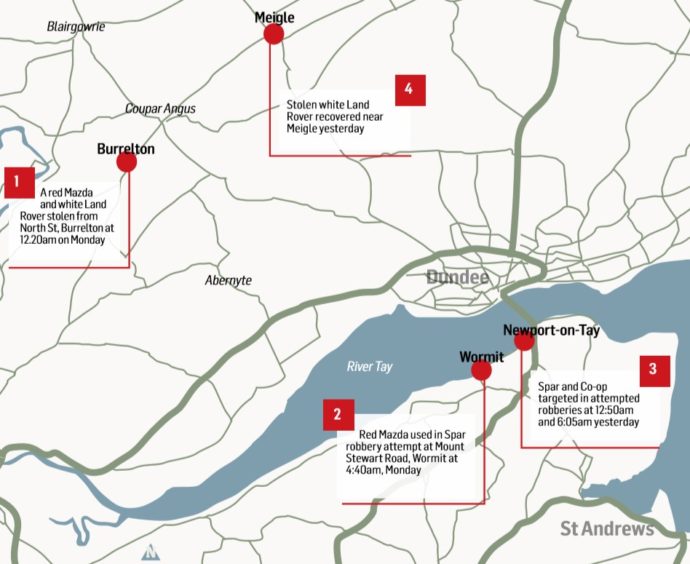 In the early hours of Tuesday morning two further shops in Newport were targeted. Police did not rule out a connection between all the incidents.
A red Mazda cx5, registration SR19 THG, and a white Land Rover Defender were stolen from North Street, Burrelton, at around 12.20am on Monday morning.
Police believe the Mazda was then used during an attempted robbery at the Spar on Mount Stewart Road in Wormit at around 4.40am.
The Land Rover has since been recovered but the Mazda is still missing.
The Spar and Co-op shops on Newport's High Street were targeted by thieves the next morning.
Police were called to a report of a theft at the Spar shop at 12.50am on November 5.
At 6.05am they were again called to High Street following reports of an attempted break-in at the Co-op shop.
Enquiries are ongoing into all incidents.
Lynne Gill, the owner of the Mazda, is asking anyone who has seen her car to get in touch with police.
She said: "I'm gutted. I never heard a thing. It was right outside my bedroom but I never heard.
"It was two cars. My neighbour had his car stolen as well. Both vehicles left North Street at the same time.
"A neighbour seen it but never put two and two together. It's not really what you would think of in Burrelton of all places.
"Around the corner recently a person had two bikes stolen as well. I don't know if it's all linked."
Lynne believes her neighbour's Land Rover was recovered somewhere between Coupar Angus and Meigle and is hopeful her car will also be found. She has been told it was spotted in Dundee on Monday night.
Lynne said: "I just want my car back, I need to get it back.
"There's been a few reported sightings of it but they (the police) don't know where it's being parked up at night. There was a few sightings last night, it beggars belief.
"I hope that someone sees the car sitting outside and can do something."
Police Scotland confirmed they are linking the car thefts with the attempted robbery in Wormit.
The Courier understands the door of the shop was smashed, alerting the owner upstairs who interrupted the break-in.
A spokesperson for the force said: "There was two vehicles stolen from the Burrelton area, a white Land Rover and a red Mazda.
"We believe at this time the Mazda was used in an attempted housebreaking at a convenience store on Mount Stewart Road around 4.40am Monday morning. They were disturbed so never got anything.
"Anyone with any information should contact Dundee CID using reference number 0452 November 4."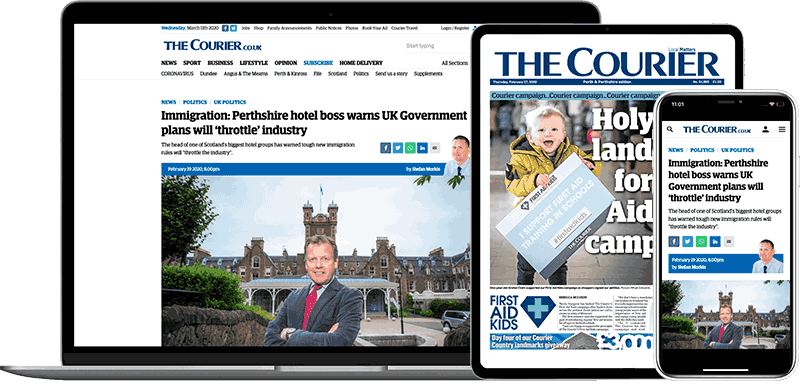 Help support quality local journalism … become a digital subscriber to The Courier
For as little as £5.99 a month you can access all of our content, including Premium articles.
Subscribe