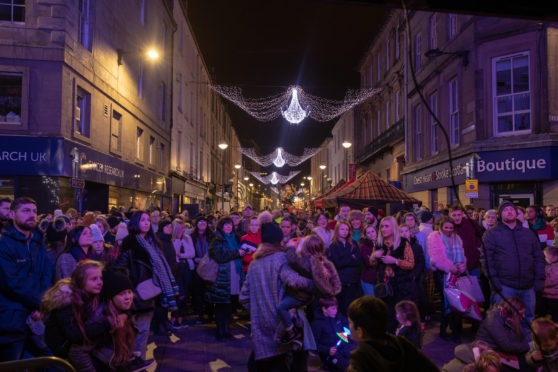 Traders who said they felt left out during Perth's Super Saturday celebrations earlier this year have welcomed plans to transform the city's George Street thoroughfare for this weekend's Christmas Lights extravaganza.
Perth and Kinross Council has confirmed that the popular Chocolate, Gin and Things outdoor market will go ahead on George Street on Saturday and Sunday.
The event, which attracted crowds of shoppers last year, is also being expanded on to St John Street.
It is part of the annual Christmas Lights switch-on ceremony, which will feature big name acts including Atomic Kitten, Alice DJ, Dario G and Scottish singer-songwriter Nina Nesbitt.
Business owners have long complained that George Street is bypassed during big city centre events.
There were complaints in August that the street had been turned into a "glorified car park" for support cars in the Women's Tour of Scotland cycling race during the busy Super Saturday event that brought thousands into the city centre.
Mandy Miller of clothes store Revival – who said the event this summer had been "great for Perth, but dire for us" – said the outdoor market was well placed on George Street.
"This is exactly the sort of thing we need," she said.
"I think it will bring a lot of people into the street, off the High Street, and lead them to some of the really nice shops we have here."
Linda Wilson, owner of Whispers of the Past, added: "Having the market on George Street last year made a real difference, particularly because it brought people in on the Sunday.
"We've missed out in the past, but this could be really beneficial to shops here.
"My only concern is that they have introduced crafts to the market, which could take trade away from shops like mine."
Operators MarketCraft will begin setting up infrastructure on George Street on Friday night.
The street will be closed to traffic until 6am on Monday.
The local authority has announced a series of road closures during this weekend's festival, which is expected to bring tens of thousands into the city.
The High Street pedestrianised zone will be shut to traffic from 7pm on Wednesday for the whole weekend.
Mill Street, Tay Street, King Edward Street and St John's Street will also be closed off.