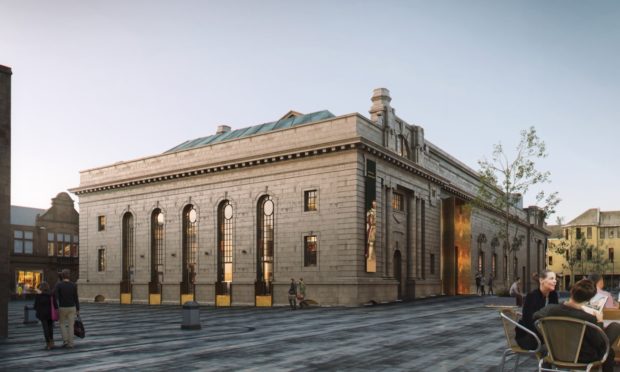 Talks are under way to bring the Stone of Destiny home to Perthshire.
Perth and Kinross Council revealed yesterday it had entered into negotiations with the artefact's guardians, the Commissioners for the Safeguarding of the Regalia.
It comes as fresh plans are lodged as part of Perth City Hall's multi-million-pound transformation.
Consultants have unveiled designs for a series of banners to decorate the outside of the building, which local authority chiefs hope will become the stone's new home.
Representatives of the council, Perthshire Chamber of Commerce and Culture Perth and Kinross met members of the historic Commissioners group in Edinburgh.
They put forward their case for transferring the stone from Edinburgh Castle to its new home in Perth, where it is expected to attract an extra quarter of a million visitors and generate some £2 million for the city's economy.
Historic Environment Scotland has mounted a counter-bid to have the stone kept in the capital.
A council spokeswoman said: "This meeting was at the request of the Commissioners to help inform their ongoing consideration of the proposal to bring the Stone of Destiny to Perth.
"Our discussions with them, via the Scottish Government, are continuing."
Glasgow-based Cushman and Wakefield, acting on behalf of the council, has meantime released details of new external signs planned for the north and south sides of Perth City Hall to "create a welcoming entrance".
In the proposals, the wall-mounted bronze letters read "Perth City Hall Museum" in block capitals.
However, the council has stressed that the name of the new visitor attraction has yet to be decided.
The Courier revealed earlier this summer that culture chiefs were considering re-naming the venue, because they were worried tourists might think it was a humdrum council admin building.
Work is due to begin on the £23 million transformation in the new year.
The latest plans have been submitted for advertising consent.
Maria Francke, a partner at Cushman and Wakefield, said: "The proposed vertical banners on the south and north elevations of the building will serve the purpose of advertising visiting and resident exhibitions held within city hall at the time.
"The banners themselves will change depending on the events held within the building."
She said the colour and materials used for the entrance signs had been chosen "to have minimal impact to the appearance and historic fabric of the building."
Ms Francke added: "The proposals for city hall are part of a major cultural transformation programme for Perth.
"The advertisement and signage scheme has been sensitively designed to respect the existing architectural features and historic significance of the building."
The council said a decision on the new museum's name had still to be made. "Local communities and residents will be involved and engaged in choosing the name closer to opening date," she said.