VIDEO: Police say this CCTV footage of men targeting Perth take-away is 'not evidence of a crime'
A Perth take-away which had its windows broken in an apparent hate crime has been targeted again.
CCTV captured the latest incident at the Must Eat outlet in the city's North Methven Street.
A young man was filmed kicking the glass door of the takeaway, while another picks up the shop's pavement sign and hurls it onto the street.
The men take to their heels when the shop's new alarm activates. This time, no damage was done.
The incident, which happened just before 3am on Saturday, was reported to Police Scotland as an attempted break-in. However, officers say they do not believe the CCTV footage shows any evidence of a crime.
Manager Laeeq Rehman has spent nearly £2,000 repairing the shop's windows after the last attack at the beginning of November. He has also installed new security cameras and alarms.
"It looked like they were trying to break in," he said. "But the last couple of times nobody tried to get inside they just wanted to smash the windows.
"I don't know if people are trying to drive me out of Perth, but I'm not going anywhere. I've lived here all of my life."
He said: "We got a new alarm fitted and that seems to have scared them off.
"I just wish more was being done to protect the street. There is one CCTV camera further along, but as far as I can tell it doesn't always work.
"Having more police and more CCTV would help."
The takeaway recently announced that it would give away free meals to people who are in need.
Festive cheer as Perth takeaway offers free hot meals every day to people in need
The scheme has been backed by Churches Action for the Homeless (CATH) and if successful, could continue beyond Christmas.
"We've been really busy. We are serving free food to about 15 to 20 people a day," he said. "People around here have been so kind and so supportive. We have had some nice messages from a lot of people about what we are doing.
"So it is a real shame when things like this happen."
The shop first had its windows smashed at the beginning of October, then again about four weeks later.
A police spokesman said officers had reviewed CCTV footage from the Saturday morning incident and decided there was no evidence of criminality.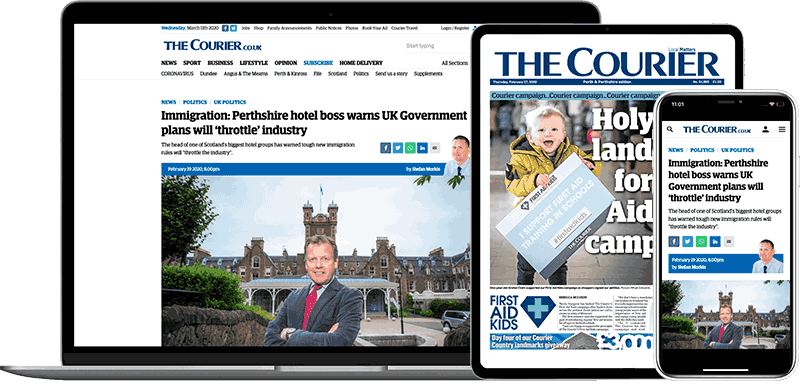 Help support quality local journalism … become a digital subscriber to The Courier
For as little as £5.99 a month you can access all of our content, including Premium articles.
Subscribe