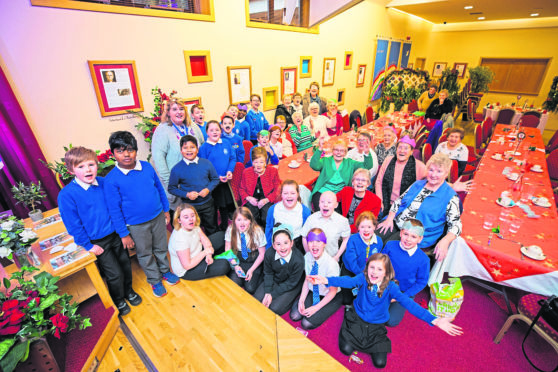 School children from across Tayside have delivered some Christmas joy to more than 1,400 pensioners in Perth.
Pupils from the city's St Ninian's Episcopal Primary handed out festive gift bags loaded with food and treats to sheltered housing residents as part of the Perth Senior Citizens Christmas Appeal.
Now in its 13th year, the campaign is organised by People With A Mission Ministries (PWAMM) from its National Christian Outreach Centre in the city's Riggs Road.
With support from a variety of businesses – including Tunnocks, Baxters of Speyside and Asda – hundreds of gift bags were filled with presents such as biscuits, soup, shortbread, steak pie, soap, books and chocolate.
They were handed out to pensioners during a Christmas lunch at the centre on Wednesday. Youngsters from St Mary's RC Primary in Dundee also helped with deliveries earlier in the week.
A further 100 families received hampers from Joseph's Storehouse, part of PWAMM's common care ministry.
The appeal was backed by construction firm A&J Stephen, Perth's Common Good Fund, Stagecoach and the Tay Charitable Trust.
PWAMM director and senior pastor Mervyn Milne said: "With all the commercialism around Christmas today, it would be easy to think that people in the 21st century would seem to have lost interest in God and the birth of His son Jesus Christ.
"It is a great privilege to be able to share the real meaning of Christmas by providing something special for so many senior citizens this year."
He said: "For the past 12 years, we have been so grateful to the growing number of supporters who want to show the senior citizens in our community the real meaning of Christmas through the provision of these gifts.
"This is our way of showing how much we still care and appreciate them."
Members of the Perth Christian Fellowship boosted the appeal with fund-raising carol concerts in Asda. They will be back at the Dunkeld Road store on Thursday, December 19, Friday and Monday 23 from 6.30pm to 9pm.