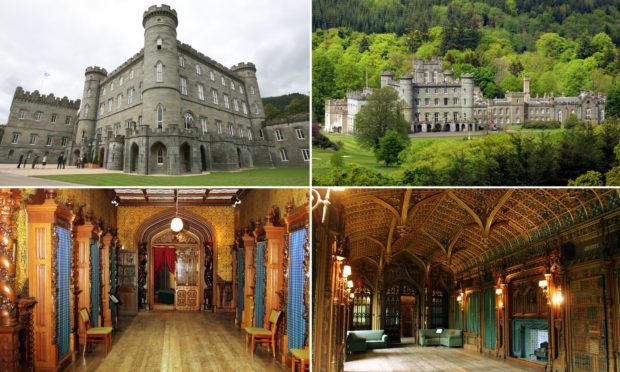 Fresh plans have been lodged to revamp part of an historic Perthshire castle famously visited by Queen Victoria.
Developers have submitted proposals to transform the Breadalbane suite of Tayside Castle as part of an ambitious project to turn the vacant pile into luxury accommodation for high-flying guests.
Agents say this part of the long-running scheme will be "critical" to its success and help lure further investment.
Last year, The Courier revealed how US firm Discovery Land Company (DLC) had struck a deal to buy the 18th century attraction.
Now, London-based businessman Henry Anderson has put forward an application for Listed Building Consent to convert the second floor wing into a "VIP suite" for "high worth individuals from around the globe".
The section was remodeled in the 1830s by celebrated architect James Gillespie Graham in preparation for Queen Victoria's arrival in 1842. The work included a new floor, above the original west wing, to be used by the castle's Breadalbane family as private quarters.
During Victoria's visit, the new floor was used by the Duchess of Norfolk.
This part of the castle was noted as having "considerable historic significance" in a 2005 masterplan. However, over the years the area fell into disrepair and became riddled with dry rot and water ingress.
About 15 years ago, ceilings and wall linings were removed but the original fireplace and some decorative fittings were saved.
In plans submitted to Perth and Kinross Council, architects for Mr Anderson wrote: "Critical to the business viability is the fact that the Breadalbane Suite will be marketed as an exclusive and unique VIP suite that will be frequented by high worth individuals from around the globe."
The spokesman for Perth-based McKenzie Strickland Associates continued: "The proposed alterations will therefore deliver an additional exclusive accommodation suite which is considered vital to attract investment and help deliver the successful phased restoration and revitalisation of the castle and help realise the ultimate vision for Taymouth Castle."
The redevelopment project has had a chequered history, with various plans lodged by several groups to convert bedrooms and build properties.
The saga took another turn in 2018 when a Libyan statesman, who served under dictator Muammar Gaddafi, was accused of selling millions from his country's government and ploughing it into projects, including Taymouth Castle.