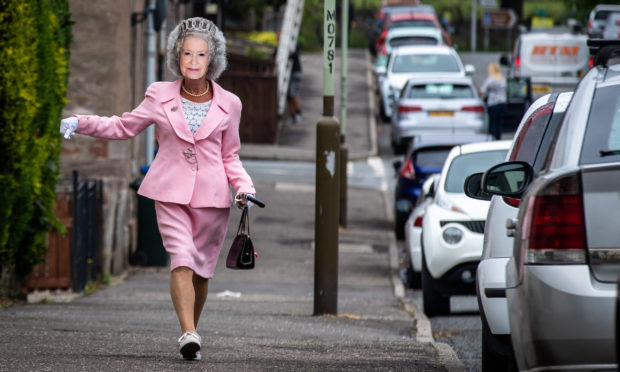 Stanley's own royal resident has completed a 53 day tour of the village, raising over £1,000 for the NHS.
Breast cancer survivor Hazel MacFadyen has completed a lap of the Perthshire village dressed as Queen Elizabeth II everyday for 53 days as she raised money for the medical team who saved her life.
Retired Hazel had planned to hold a joint birthday fundraiser with a friend in April to mark her 70th birthday, two decades to the day since NHS Tayside's oncology team first operated on her.
But with mass gatherings forbidden, Hazel was keen to do something to repay the efforts of the nurses shown on television every night.
Looking for inspiration, Hazel turned to her wardrobe and dug out her only fancy dress costume, Her Majesty.
The outfit tied in perfectly with the monarch's first birthday in April, and so former factory worker Hazel set herself the challenge of trekking around Stanley everyday until the official celebration, which took place on Saturday.
Pensioner Hazel, who moved to Stanley from Dundee around a decade ago, battled through heat and pain to plod around the village for almost an hour a day, racking up over a grand for charity.
She said: "I was supposed to be having a joint birthday party for charity and raising money for the oncology team who treated me for breast cancer on my 50th birthday.
"That had to be cancelled but I still wanted to do something, especially seeing those nurses bent over backwards on all the virus footage on the news.
"I never had any second thoughts but I struggled with some pain in my legs for a couple of weeks. Between the wig and the mask, it was very hot, disorientating and I couldn't see or breathe much, but no pain no gain.
"The costume is getting hung back up now. I'm so chuffed as I only wanted to raise £100. I'm looking forward to putting my feet up now.
"The team at Stanley shop have been fantastic at managing all the money."