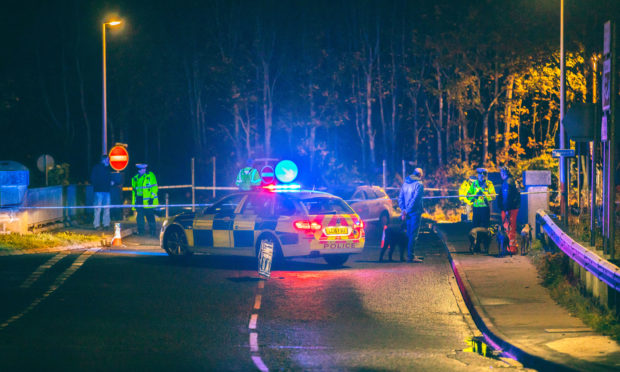 Work will finally resume next week to rebuild a busy A90 flyover between Perth and Dundee that was put out of action when it was rammed by a huge crane.
The dual carriageway overpass, linking St Madoes and Glencarse, was badly damaged in the Halloween night accident that closed the commuter route for more than 12 hours.
Bear Scotland has announced part of the road will be shut overnight on Wednesday to allow for a further investigation of the structure.
The final phase of the operation will get under way later in the year.
During the work – from 9.30pm to 6.30am – northbound motorists will be diverted from the A90, along Glencarse Main Street. Traffic travelling south will not be affected.
Workers will have to adhere to strict physical distancing protocols and new safety measures and risk assessments have been development to keep everyone safe.
Bear Scotland's North-east representative Andy Thomson said: "This essential investigation will allow our teams to assess the A90 Glencarse overbridge ahead of repairs to the structure later this year.
"We've arranged for the work to take place overnight to minimise impact on key workers and those making essential journeys."
He said: "At this difficult time the safety of our employees remains a top priority during this essential work, and all personnel will be subject to strict physical distancing protocols in line with government guidance to ensure they are kept safe.
"Thorough risk assessments have been developed and cleansing stations will be implemented on site to ensure all staff remain safe.
"We need to close the A90 northbound overnight to allow safe access to the bridge deck, and as ever we'll do all we can to ensure that this project is completed as quickly and as safely as possible."
Temporary traffic lights were put in place last year, after local businesses complained their trade had been hit by the bridge closure.
Local Labour councillor Alasdair Bailey welcomed progress on the repairs. "It's good to hear that these investigations can take place now whilst traffic levels are significantly reduced.
"I'll continue to push Transport Scotland and BEAR to get on with the permanent fix so that the traffic lights on top of the bridge can be removed."