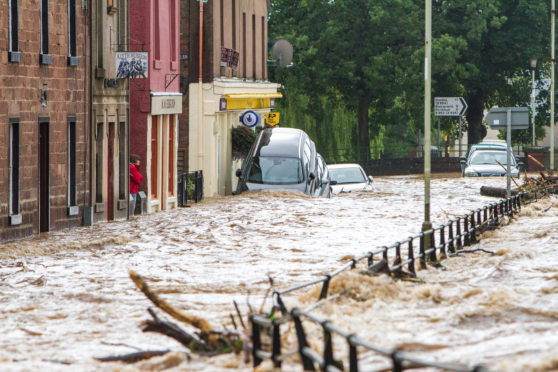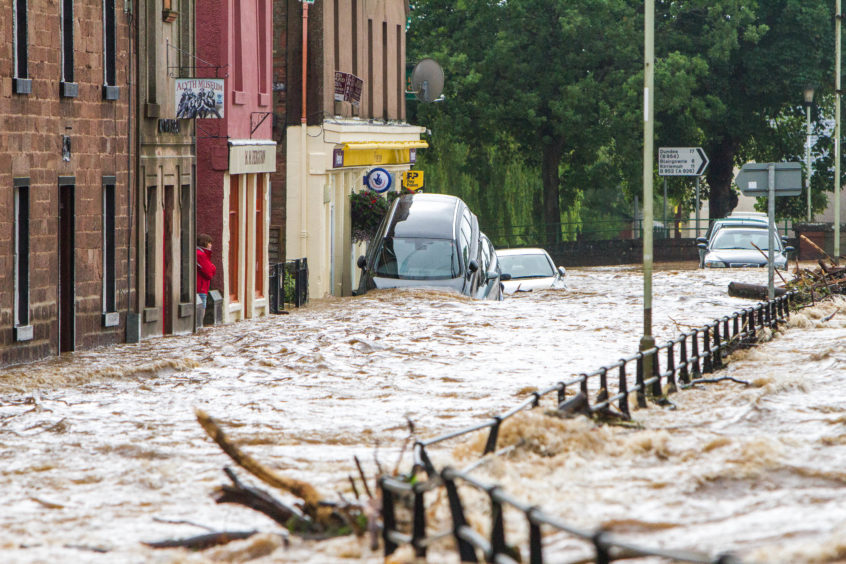 A Perthshire community group set up to support neighbours during the coronavirus pandemic has set its sights on shoring up the town against longstanding flood problems.
Residents in Alyth have come together to protect homes, businesses and each other from a series of deluges over the years.
That spirit was solidified at the beginning of the pandemic when locals set up the Alyth Community Support Group to keep an eye out for vulnerable people and arrange grocery and prescription drop-offs.
The project has since evolved into a foodbank and now volunteers have their sights set on becoming a taskforce to combat the flooding issues which routinely barrage the east Perthshire town.
The group's KT Garrett had been out since dawn yesterday following heavy rain overnight and was heading out to deploy sandbags at a handful of vulnerable points in the town ahead of this weekend's weather warning when she spoke to The Courier.
Local councils deliver sandbags, close car parks and shut flood gates ahead of Storm Alex deluge
She has helped co-ordinate around a dozen flooding defence points around the town, and is looking for five figure funding to help the group prepare for future incidents.
Potato boxes and water containers for livestock have been donated by local farmers and sawmills and KT has arranged for the crates to be converted into supply points to be placed in the most high-risk areas.
She estimates it will take nearly £15,000 to fill them with an adequate number of sandbags, hydrosnakes, rakes, shovels, torches and other equipment.
"Just now there are sandbags stashed in plain sight, but we're hoping for points around the town so they can be stored where they are needed," she said.
"There's no shortage of volunteers or enthusiasm.
"There's a lot of people who are nervous in Alyth when it rains, but we've got a list of key points and our job is alerting people and preparing beforehand.
"We're applying for funding, and we'd like to be involved in any steering groups going forward."
Perthshire town previously hit hard by flooding works to prevent further damage in 'success story'
Deputy First Minister John Swinney MSP said he was hugely impressed by the steps taken by the local community in Alyth to mitigate the risk of flooding.
"Whilst the efforts of local residents should be applauded, it is clear that further support would be appropriate," he said.
"To that end, I would urge the council to consider offering a building or unit within the town that would allow flood defences to be stored and accessed by volunteers.
"I feel that Alyth would benefit from a resilience group comprised of stakeholders from the council and the local community.
"This group would work together to ensure that the town's flood defences were as robust as possible."
LONG READ: Five years on, Alyth flood has left 'scar tissue' but solutions may be coming