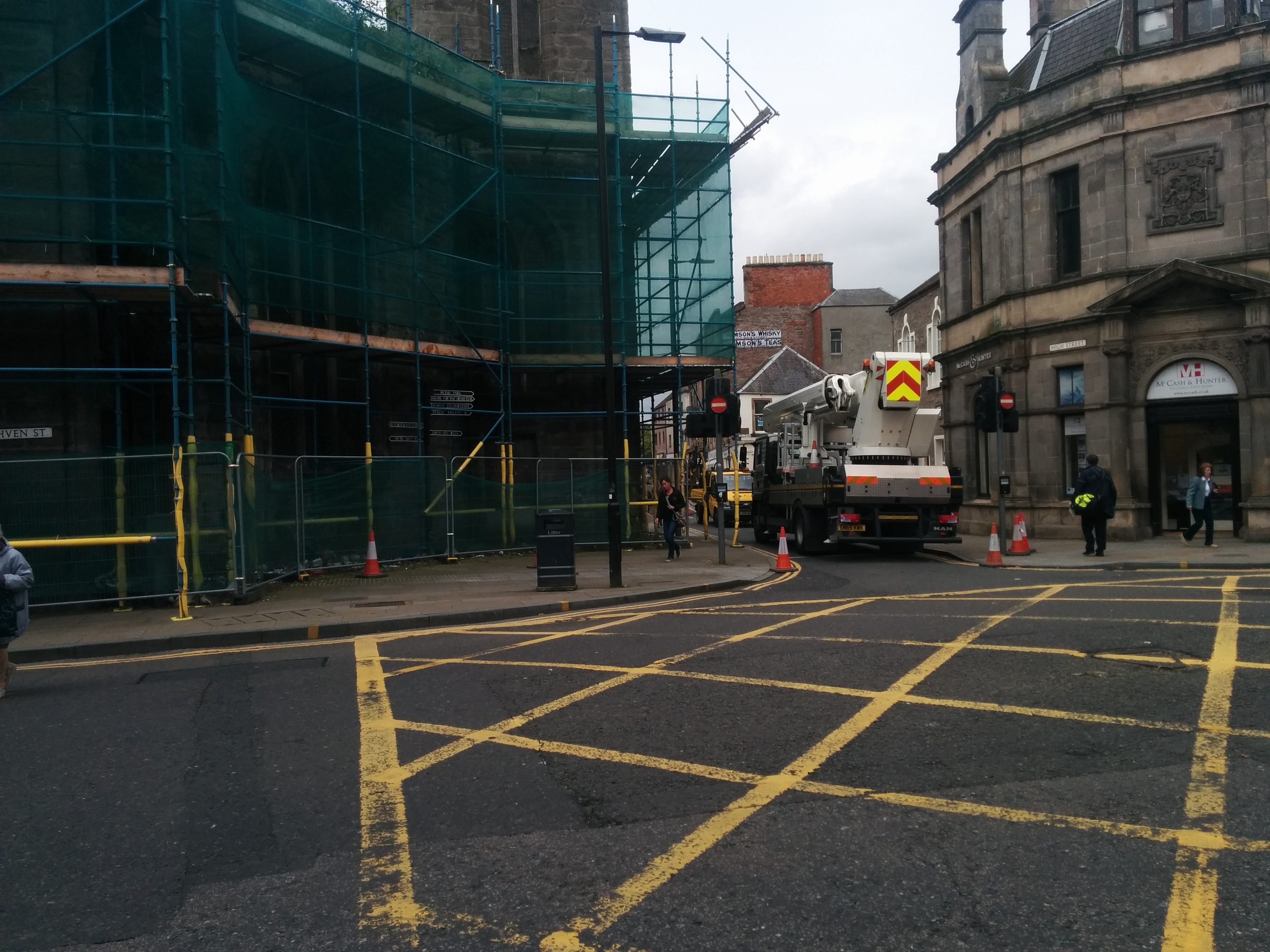 The leader of Perth and Kinross Council has not ruled out using a compulsory purchase order to take over a dilapidated former church, stating the "saga" has "gone on long enough."
Although the local authority is set to step in and carry out urgent repairs work on St Paul's Church in Perth – understood to cost in the region of £400,000 – Councillor Ian Miller told business leaders earlier this week that he feels "it is time to act" to save the "iconic" building.
However, it's been revealed no work is likely to take place before December.
Council inspectors recently used a cherry picker to check the condition of the crumbling building, which currently has a scaffolding 'wrap' surrounding it.
This followed a lack of action by James Boyd, the Northern Ireland-based owner of St Paul's Church, who had been asked to carry out a host of urgent repairs.
The council has lost patience with Mr Boyd, a director of Arengate Ltd, after issuing him with an urgent repairs notice in April, which ordered him to undertake necessary work by June 1. This deadline was extended following talks between Mr Boyd and a senior council officer when the businessman claimed he would start work in early July.
But with no sign of any such work taking place, the council has confirmed officials are set to appoint a contractor to carry out the repair work, and also stated they will bill Mr Boyd the costs.
However, the matter may not end there and when asked about the possibility of raising a compulsory purchase order, Councillor Miller said his personal view was that the council should "use every power at our disposal" to bring matters to a close.
Addressing city centre business leaders, he indicated that the local authority may consider using compulsory purchase powers to take over the building.
"It's the council's intention to step in," Mr Miller said.
"The exact process is not agreed as yet, but certainly my view is that we should move to keep that as an iconic site at the top of the High Street.
"I would definitely want to retain that impact that St Paul's has on the city."
He continued: "A repairs notice has been issued on the owner. This is a statutory process which does take some time, unfortunately.
"Urgent works have been instructed to make the building entirely safe, but the earliest commencement date, because of the process, is early December.
"However, papers are being prepared and we are actively trying to get progress on this.
"Unfortunately, this is not a council-owned site, so we do have to go through this lengthy process.
"Once it becomes apparent that the owner – as I suspect – will not carry out repairs, the council will step in and take action.
"The building has never been in our ownership but its condition is causing concern to everyone.
"My view is that this saga has gone on long enough. We have had various promises about the future which have never materialised and it's now time to act."
Perth City Centre Councillor Peter Barrett, who has taken a close interest in St Paul's Church, welcomed the move but expressed concerns as to how long it could take.
"It is high time that Arengate stopped mucking the council and everyone else about," he said.
"Now that Councillor Miller has signalled that the council's intention is to step in, Arengate should give over possession of St Paul's while it can still be saved."
Mr Boyd is claiming he is still in talks with a view to selling St Paul's Church, although there is no tangible evidence of this.
He commented: "Discussions are ongoing regarding St Paul's, but due to works notices negotiations have been made much trickier."