A motorist said he's been treated "like a common criminal" after Smart Parking's high-tech machines failed to recognise his rare number plate.
Ian Imrie's limited edition Mini Goodwood bears the valuable registration M53, a mark once owned by Lord Kinnaird.
He parked at the Mill Street car park in January, when it was still being managed by the controversial private parking firm, and paid £1 for an hour's stay.
However the antiques dealer failed to notice that despite typing in his three-character registration, the ticket produced by the machine bore only the letter "I" and the company issued him with a penalty. He has since been sent nearly a dozen letters demanding payment.
Ian, who lives in Bridge of Earn, said: "I took my wife Margaret into town and parked at the Mill Street car park. As I pressed in my registration number the girl behind me commented that it was an unusual number, being M53.
"I put the ticket on the car windscreen. In years and years of buying parking tickets you never look at them, do you? We did what we had to do and were only away for half an hour. A week or so later I got a parking charge notice.
"It's a unique number — it was first issued in 1903 to one of the first cars in Britain to have a registration plate. It's very valuable and rare, and there's no chance of me forgetting it or getting it wrong. It's their machine that's made the mistake.
"It's a moral issue — the money doesn't come into it for me. It's getting some private company threatening you for not buying a ticket when you did. I'm being treated like a common criminal and it winds me up."
Local MSP Murdo Fraser, who has campaigned hard against the company, said: "Another week and another case of Smart Parking wrongly pursuing motorists for fines they are not due.
"It seems inconceivable that the motorist in question could input such a short registration plate incorrectly, clearly there must have been a fault with the machinery.
"Ever since these meters were installed there have been issues and Smart Parking must investigate their functioning, across all facilities, to ensure that they are customer friendly.
"Parking shouldn't be hard and cases like this will have a detrimental impact in discouraging people from visiting Perth for shopping and leisure. Smart Parking must clean up their act and start providing a proper, fair and easy to use service in the centre of Perth."
A spokesman for the firm said: "Smart Parking operates a full appeals procedure for all Parking Charge Notices and encourages all motorists to use this should they feel their ticket was issued incorrectly.
"In this case the motorist did not make use of this process and so the charge has now been escalated. Smart Parking are members of the British Parking Association and strictly follows its guidelines."
New bid to secure parking legislation changes
A private parking watchdog is to be pushed to find ways to bring the industry into line.
Murdo Fraser is to hold talks with the British Parking Association (BPA) and Citizens Advice Scotland in a bid to get better regulation in the private parking industry.
The Mid Scotland and Fife MSP will meet with the BPA's director of policy and public affairs, Kelvin Reynolds to learn more about how they can assist in improving current industry practices. He will hold separate talks with Fraser Sutherland of Citizens Advice Scotland.
After several high profile cases – including many in Perth – where private parking firms have relentlessly and wrongly pursued customers, Mr Fraser believes it is time for a change.
He believes any changes must also be underpinned by an independent appeals body, something which does not currently exist in Scotland.
Many private parking firms abide by a code of conduct set by the BPA but Mr Fraser said he does not feel that this voluntary code goes far enough to root out the rogue parking companies.
He said: "Private parking firms have had long enough to clean up their act and operate in the public interest, it must now be time for the Government to use legislation to enforce a rigorous, fair and binding code of conduct if they are not going to act on a voluntary basis.
"An independent appeals service where parker's complaints can be heard should undoubtedly form part of any new legislation. Where motorists have broken the rules they should face proportional and fair punishment, right now this does not appear to be the case.
"Using third party collection agencies to pressure vulnerable motorists into coughing up exorbitant fines has to stop and tough regulation has the power to create more harmonious relations between operators and parkers.
"I look forward to speaking with the BPA and Citizens Advice to hear their perspective and to learn more about what can be done to improve the sector."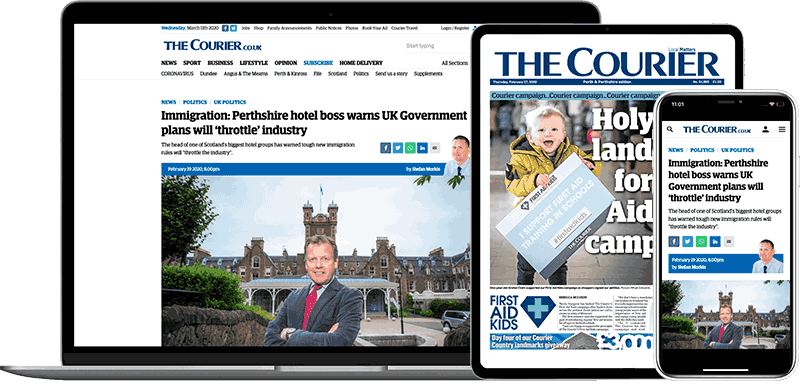 Help support quality local journalism … become a digital subscriber to The Courier
For as little as £5.99 a month you can access all of our content, including Premium articles.
Subscribe