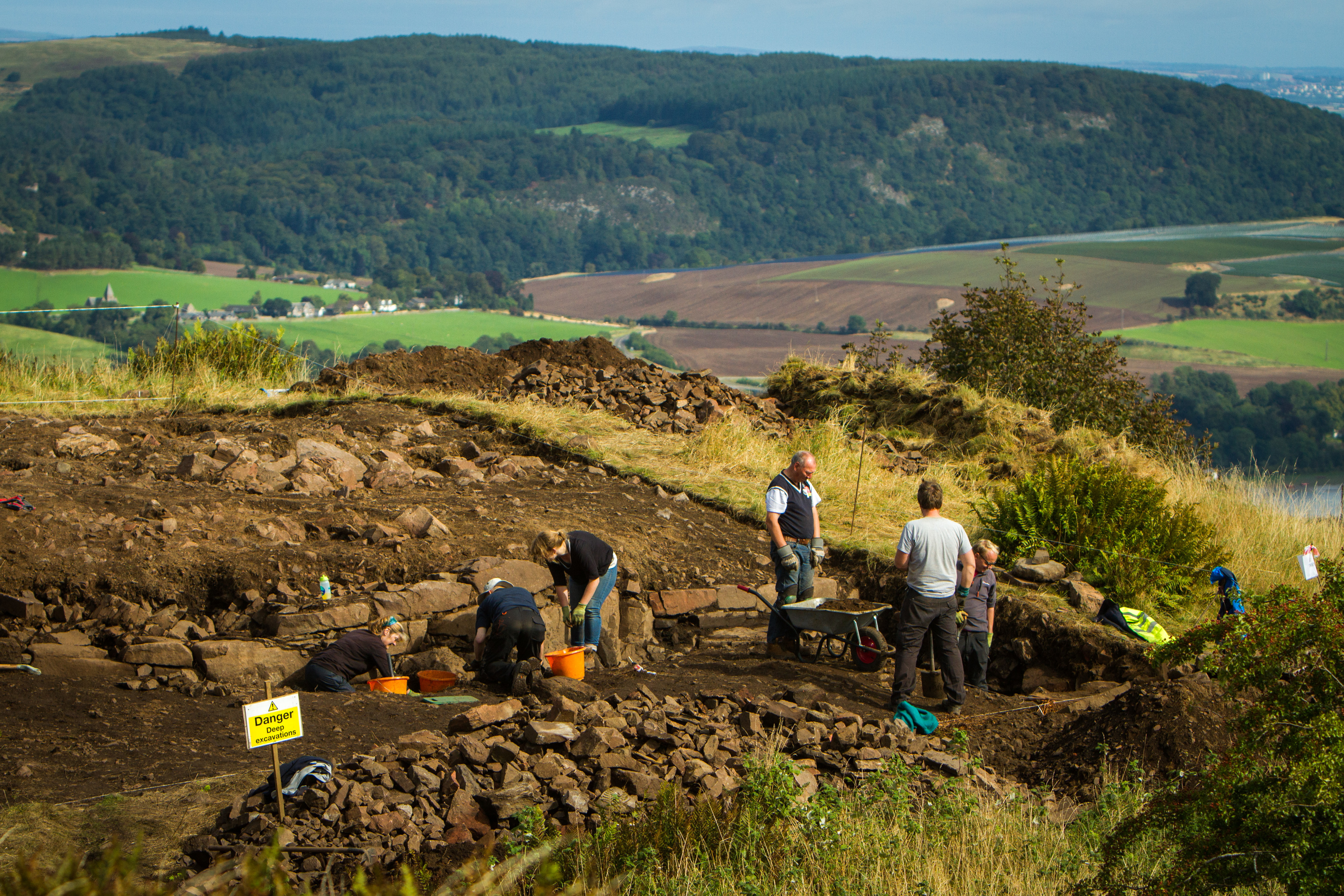 A torchlight procession to one of Perthshire's greatest seats of Iron Age power will begin seven months of archaeological celebrations.
Over the last decade, Perth and Kinross Heritage Trust has delivered its annual Archaeology Month, showcasing the region's outstanding historic environment.
With 2017 officially declared as the Scottish theme year of History, Heritage and Archaeology, however, one month will become seven.
A vibrant programme of guided walks, talks, historically themed fairs, archaeological field surveys and excavations will take place between April and October.
The launch looks to be an exciting sunset ceremony, beginning with a torch-lit procession through the atmospherically lit woodland of Moncreiffe Hill up to the hillfort of Moredun Top.
Celebrate singer-songwriter Dougie MacLean – trust patron – will then light a beacon to mark the start of the Perth and Kinross Archaeology Year.
From the summit, the sound of a prehistoric horn will echo once more across the ramparts and a prehistoric world will be reconstructed through immersive hilltop virtual reality.
Chieftains once controlled the land for miles around from Moncrieffe Hill, which was home to two giant hillforts, of which Moredun Top was the largest.
Thick stone walls, perhaps as much as 12 feet high and topped by a log palisade, crowned the hill from where its ruler had a commanding view of his surroundings.
The wider events programme will offer new guided walks to some of the county's lesser-explored archaeological sites as well as reviving old favourites such as tours of the Roman Gask Ridge sites and trips to many of the other hillforts that crown Perthshire's hilltops.
There will be lots of opportunities to get your hands dirty and experience the past at the trowel's edge with four excavations to sign up for and take part in.
The first will be Tay Landscape Partnership's month-long dig on Moncrieffe Hill – running from April 25 to May 20 – for which volunteers are already being sought.
Until 2015 no archaeological survey of the site had ever been carried out, despite its one-time importance.
The excavation will be one of a number, including the sixth and final season of digs at Lair near Glenshee, where impressive Pictish longhouses once stood.
That will take place in June and there are two more hillfort digs planned for May and September.
Navigation courses using archaeological sites, workshops and demonstrations in archaeological survey and a Medieval Fair in Perth city centre will be taking place.
And Doors Open Days will return in September, again expanded to cover three consecutive weekends instead of one.
Eastern Perthshire will feature prominently with walks and talks delivered as part of the Cateran's Common Wealth programme, which see an array of events organised around the Cateran Trail.
The Scottish Crannog Centre's 20th anniversary celebration, meanwhile, means that special events will be held each month.
The full detailed programme will be available from libraries and VisitScotland Information Centres from March, while a digital programme with calendar and online booking can be found at www.pkht.org.uk.