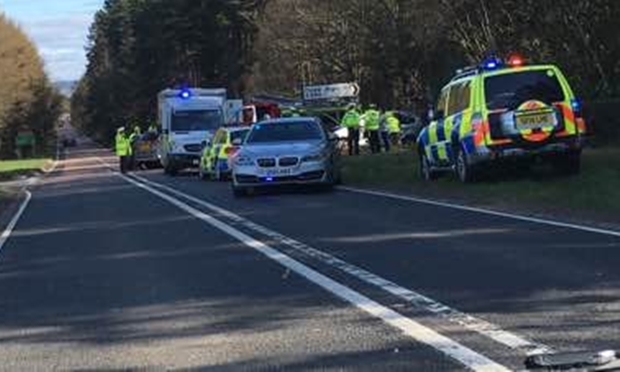 Five people were rushed to hospital, some with serious injuries, following a sickening two-vehicle accident near Blairgowrie.
Police units at the scene reported that none were "life-threatening" but all occupants of the cars were taken for treatment at Ninewells in Dundee.
The accident took place at a well-known accident blackspot, at the junction of the A93 and A984 near Meikleour, on Friday.
The roads had to be temporarily closed as emergency services converged on the crossroads shortly after 10am.
They found a badly damaged grey Mitsubishi Outlander and silver Volkswagen Sharan, together with five casualties.
Scottish Fire and Rescue were called to help extricate the occupants from the wreckage, with two local units attending.
It took some time for the badly damaged vehicles to be removed, with police officers directing traffic past the accident.
A spokeswoman for Police Scotland said: "Five people were injured in the incident. The injuries are not believed to be life threatening.
"The casualties were taken to Ninewells Hospital for treatment and traffic was managed in the area while the vehicles were recovered."
The A93 between Meikleour and Blairgowrie has been the scene of many serious crashes over the years and has regularly been assessed as one of Tayside's top 10 accident blackspots.
Accidents have taken place often at the crossroads, at various road junctions and on straights over a few short miles to the west of Blairgowrie.
One of the worst incidents took place in June of 2016 when one man died in a six-vehicle crash at the Beech Hedge.
A second man sustained serious leg injuries when he was knocked down while desperately trying to slow approaching vehicles and prevent them from piling into the crash.
Back in 2001, a woman had a miraculous escape after she was thrown from her car and ended up in the famous Meikleour hedge.
She sustained serious but not life-threatening head injuries.
A second woman – among four who suffered injuries in the crash – had to be cut free from the wreckage of her vehicle.