A unique record of speaks at the Royal Scottish Geographical Society in Perth is being preserved thanls to a donation. Michael Alexander reports.
It has heard over 5000 talks during its 133 year history ranging from world famous explorer Sir Ernest Shackleton to the first man on the moon Neil Armstrong.
Now one of two visitor books which record the Royal Scottish Geographical Society's distinguished history of supporting and promoting geographical exploration, research and education is to be preserved for posterity.
The restoration work is being made possible by the donation of a donor which will ensure the older of the two books receives some extra refurbishment to secure looser pages and stabilise the binding.
RSGS, now based in Perth, was informally founded in 1884 when one of the original signatories of the visitors' book John George Bartholomew – of the Bartholomew map-making company in Edinburgh – came up with the idea for a national society of geography in  Scotland.
He felt that Scotland was suffering from many missed opportunities for the development of geographical education, science, trade and political knowledge of the world.
The 24-year-old introduced the idea to the daughter of explorer David Livingstone, Agnes Livingstone-Bruce, during a walk on the beach near her North Berwick home.
She herself was a keen geographer with a particular interest in Africa, and they committed to starting a Scottish Geographical Society which was backed by Edinburgh University geology professor James Geikie and which was given royal status by Queen Victoria three years later.
At the society's first talk, all three formal founders signed the RSGS visitor book for the first time and began a long tradition that has seen the society record the names of the world's most prominent explorers, adventurers and academics along with plenty of politicians, more than a sprinkling of royalty and not to mention publishing royalty – DC Thomson of Dundee-based Courier publishers DC Thomson & Co Ltd – who was awarded an RSGS fellowship (FRSGS).
The older visitors' book holds all of RSGS' visitors' signatures up until its move from Glasgow to Perth in 2008 with the newer book signifying a new stage for the society.
Notable signatures featured in the old book include Sir Ernest Shackleton, RSGS Director 1904-1906 and world famous explorer; Fridtjof Nansen, Norwegian, possibly the most famous polar explorer ever, scientist, diplomat, humanitarian and Nobel Peace Prize laureate; Sir Ranulph Fiennes FRSGS, one of the most renowned modern-day polar explorers, RSGS speaker and RSGS Livingstone medallist; D C Thomson of DC Thomson & Co Ltd; Sir Edmund Hillary FRSGS, first man to climb Everest and also a Livingstone Medallist; and Neil Armstrong FRSGS, first man on the moon and RSGS Livingstone Medallist 1971.
The new book includes the signatures of Alexandra Shackleton – granddaughter of Sir Ernest; Annie Lennox FRSGS – singer and Livingstone Medallist for her work with AIDS; Ray Mears – adventurer and TV personality; Neil Oliver – historian and TV personality, and Sir David Hempleman-Adams FRSGS – world renowned explorer, first man to complete the explorers grand slam (both poles and highest peaks on all continents), RSGS vice president and holder of our highest honour the Scottish Geographical Medal.
It also features the signature of Rune Gjeldnes FRSGS – modern day Norwegian explorer and holder of our Mungo Park medal (lives in Hell, Norway!)
Mike Robinson, RSGS chief executive, said: "From royalty to rock stars and politicians to polar explorers the number of lives and stories that make up the society's history is phenomenal.
"Our archives hold some of the best stories from the past 200 years but they all come together in the visitor books.
"We are very grateful to a donor, who would like to remain anonymous, for volunteering to fund the refurbishment of our older book, this donation helps fund our commitment to the conservation of our collection".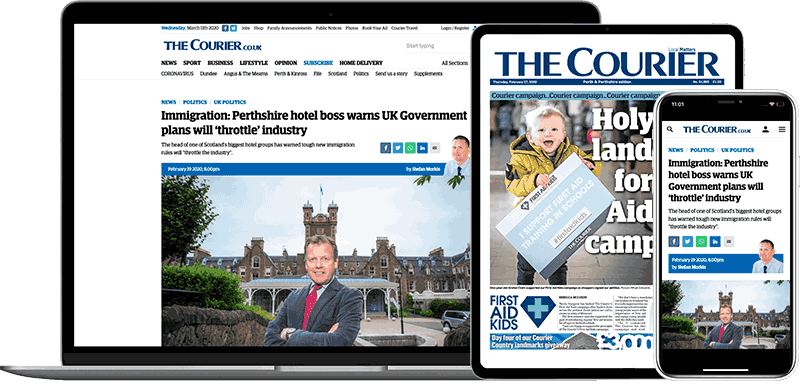 Help support quality local journalism … become a digital subscriber to The Courier
For as little as £5.99 a month you can access all of our content, including Premium articles.
Subscribe