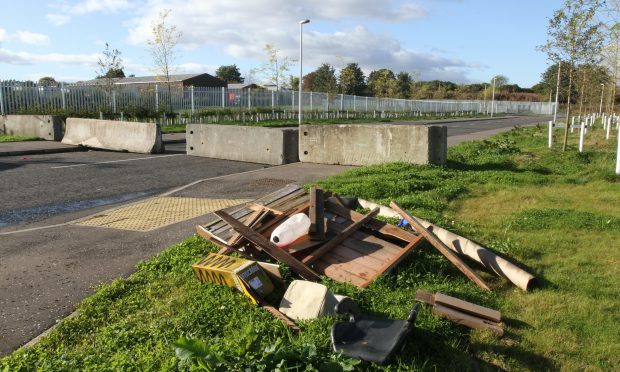 Security has been beefed up at Scotland's first dedicated food and drink park, after a lengthy stop-over by Travellers.
About a dozen caravans set up camp at the under-construction business estate in Perth more than six months ago.
The families finally left the site after Perth and Kinross Council threatened legal action last month, claiming the site had become a health and safety hazard.
And now steel fencing has been hammered into place around the area in an effort to prevent more unauthorised camps. Large concrete barriers are being used to block traffic to the vacant area of the park, off Arran Road.
And with the Travellers gone, the local authority can now begin marketing the much heralded £1.8 million park.
Units are now in place and several businesses have expressed an interest in moving in.
A council spokesman said: "We can confirm the encampment has now left the Food and Drink Park in Perth.
"Barriers have previously been installed to deter any encampments being set up and we are using these arrangements again, now that the site has been cleared."
Local councillor Chris Ahern, who has been monitoring the situation, said: "I am glad to see the Travellers have moved on.
"It means that we are now able to concentrate on getting the units completed and securing businesses to move in."
Mr Ahern said: "It is also a benefit to the local community, who now feel safer being able to walk their dogs in the area and walk along the river.
"I only hope moving forward that we don't have to go through this all over again. Obviously, when the food and drink park is busier with new businesses it won't be a problem."
He added: "My concern will be what other areas will be used. Several years ago, Travellers use to camp beside the riverside church and I would not like to see them move to areas like that again."
Earlier this year, the council confirmed it has abandoned long-standing plans to 
establish a new dedicated halting site for Travellers.
It will instead put the £46,000 earmarked for the project into improving existing camps at Double Dykes, on the western edge of Perth, and Bobbin Mill in private woods at Pitlochry.