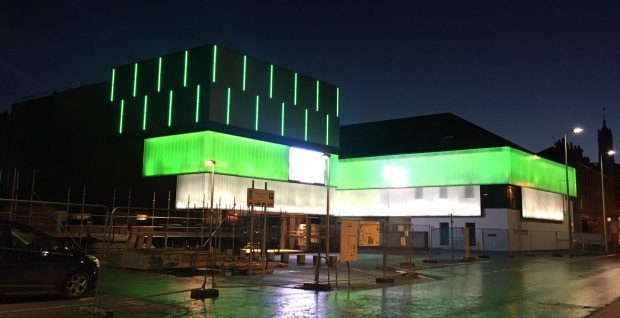 The legendary "first lady" of the Scottish stage has been given a lasting tribute at new look Perth Theatre.
Joan Knight was known to generations as artistic director at the 117-year-old venue, which is poised to open its doors after a £16.6 million rebuild.
A new 200-seat studio theatre at the building has been named in her honour. A new commission fund has also been set up in Joan's name, which will invest in up-and-coming local talent.
Joan was artistic director at the theatre from 1968 to 1993 – three years before her death – and was known as a champion of new playwriting and young talent, including the likes of Trainspotting star Ewan McGregor.
The driving force behind the new fund and studio name are two former theatre employees who worked alongside Joan.
Vanessa Rawlings-Jackson, who was the venue's first general manager from 1976 to 1982, said: "Joan Knight believed in nurturing new talent, and growing existing talent.
"She would give new and established actors opportunities to develop their skills, she commissioned and employed new writers, designers and directors, many of whom went on to run major theatre companies and direct productions across the UK and internationally."
She said: "This commitment provides the foundation on which the Joan Knight New Commission Fund will be established. Its aim will be to invest in emerging talent – in the people of today who will bring new ideas and energy to the theatre with the opportunity to work with the remarkable current artistic team at Perth Theatre."
Patrick Sandford, who worked at the theatre in the 1980s, rising through the ranks from trainee to director, added: "Looking back, it is important to acknowledge that audiences change and the theatre always needs new approaches.
"The past is interesting and should be honoured and examined, but the nostalgic notion of a Golden Age is misleading. The Golden Age of Perth Theatre is now.
"Joan would be thrilled to have a new studio space and to think that living writers were having their work done in it, by enterprising directors and actors."
New artistic director Lu Kemp said: "For the past three decades, Scotland has been a beacon for new writing – the work of Scottish playwrights is performed all over the world.
"I look forward to honouring Joan Knight's legacy, and following my own personal commitment by developing and supporting new talent at Perth Theatre."
She added: "The flexibility of the new studio is an inspiration, and will enable artists to create relevant exciting work for audiences today."
The doors to Perth Theatre will re-open on Monday, November 13, when the public will be able to access the box office, cafe and bar.
The first production will be Aladdin, which begins its run on Saturday, December 9.