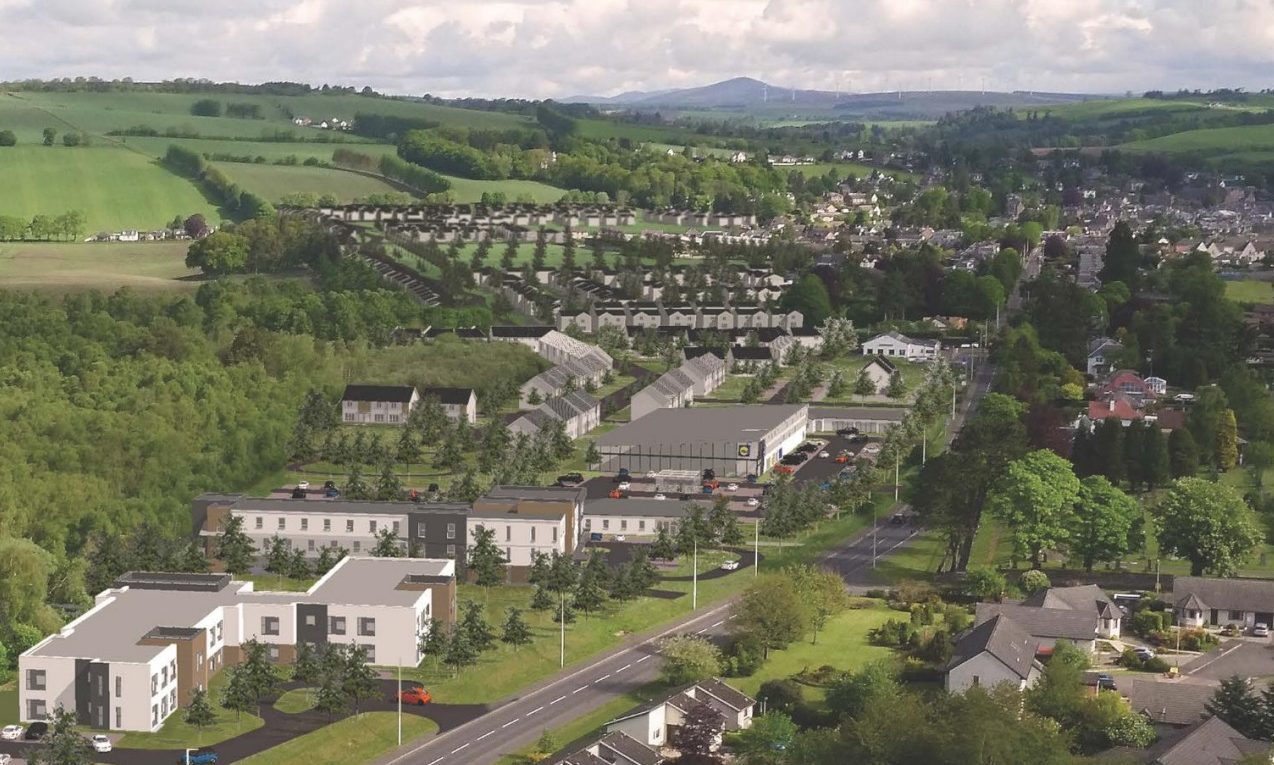 Perthshire's biggest town is poised for further expansion with plans unveiled for up to 900 new homes.
Swathes of farmland to the east of Blairgowrie look likely to be zoned for a huge housing development.
Neighbouring ground – about 40 acres off Welton Road – could also be set aside for new businesses, creating scores of jobs.
But the proposals, which are part of Perth and Kinross Council's revised Local Development Plan, have triggered calls for a major infrastructure overhaul for the town to cope with a "rapid" surge of new housing.
Separate plans for 400 houses on the western side of the town were lodged earlier this year and Springfield Properties recently secured planning consent for more than 200 homes at nearby Rattray.
Councillors will decide whether to reserve land for an eastern expansion at their meeting on Wednesday.
A masterplan for the 130-acre site will need to be approved before any detailed proposals can be drawn up. A flood risk assessment of the site would also need to be carried out.
Local Conservative councillor Caroline Shiers said there were concerns about potential impact on healthcare provision and town centre parking. "I have raised ongoing concerns with officers regarding future developments without improvements to infrastructure," she said.
"I also want to see us improve foot and cycle paths into the centre of the town. With so much new building we need to ensure that the town centre is easily accessible and prevent a doughnut effect where there are lots of houses around the outside of the town, and the centre of the town loses its vibrancy."
Ms Shiers has asked community councillors to organise a consultation to gauge views on the latest housing plans.
"There are already a number of developments set to be built in the next few years which will dramatically change the character of the town and any further development needs to be very well planned," she said.
Community councillor secretary Stuart Nichol added: "The main point of concern is the rapid and steady growth of the town over the past 20 or so years and the projected growth in the future.
"The infrastructure provision in the town is the same as it was more than 30 to 40 years ago, but the town is more than twice the size. The concern is that the current infrastructure becomes overwhelmed."
He added: "Although the plans always call for transport and other facility assessment for each site, what we feel is needed is an overall assessment for the whole town, and facilities and essential infrastructure planned accordingly."
He stressed it was also important to also create employment opportunities, as well as housing, to sustain the local economy.
The proposed Local Development Plan – which has also suggested major new housing and leisure pursuits at a Perth quarry – will go out to consultation after Wednesday's meeting.
Convener of the local authority's environment, enterprise and infrastructure committee, Conservative councillor Colin Stewart said the revised plan followed extensive talks with stakeholders, communities and developers.
"The comments received on the Main Issues Report, published in December 2015, have helped shape this proposed plan and we would like to hear whether local people are in agreement."