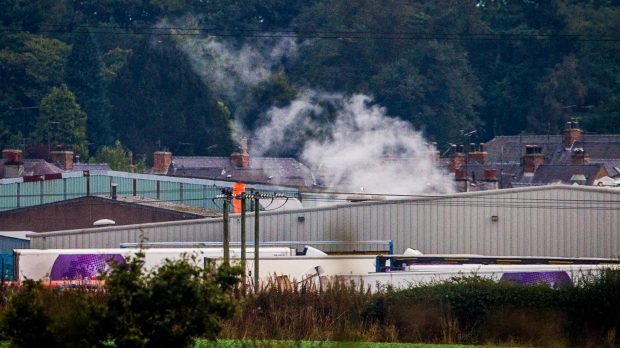 A Perthshire chicken factory has received a 'red' warning from a national supermarket chain which flagged up a series of problems at the site.
Inspectors from Tesco visited the 2 Sisters Food Group site in Coupar Angus and found five compliance issues it defined as 'major.'
The east Perthshire site has previously been slammed by local residents for smells emanating from the factory but the problems highlighted by the Tesco inspectors relate to issues including labelling, segregation, traceability and recording.
The supermarket chain has stressed it asked 2 Sisters to address these matters immediately to prevent any food safety issues.
The Tesco audit found organic and non-organic chickens were mixed, that a computer system allowed all workers at the Coupar Angus site to change use-by dates and there were several instances of double labelling or no labelling.
Inspectors also found there were "serious issues" with records designed to account for chickens earmarked for disposal, with auditors stating the Perthshire site could not "fully demonstrate" which products have been sent to waste. Tesco claimed there were failed efforts to trace chicken recorded as being dispatched from the plant.
A Tesco spokesperson said "nothing is more important" to the company than the safety of the food they sell.
"We ensure the food our supplier partners produce is of the highest standard with routine, detailed and rigorous audits across our supply chain," he said.
"Coupar Angus is an important source of chicken for the whole retail industry. All retailers conduct regular inspections as a safeguard against potential food safety issues.
"Our inspection highlighted a number of inadequate processes at this site, including labelling, segregation, traceability and recording. We insisted these were addressed immediately to prevent any food safety issues."
He added Tesco shared its findings with the Food Standards Agency and Food Standards Scotland and stated that they "continue to monitor" practices closely across 2 Sisters poultry sites.
A spokesperson for the 2 Sisters Food Group said neither the mixed organic and standard chicken, nor poultry earmarked for disposal had been dispatched to customers.
Regarding the issue of the site's computer system allowing any employee to change use-by dates, the spokesperson said: "There was no evidence that this was actually happening.
"Following the Tesco report, 2 Sisters has taken steps to make the computer more secure, including moving it to a new location."
Production at the 2 Sisters chicken factory in West Bromwich was temporarily suspended prior to the Coupar Angus inspection due to what the company called "process failures."
2 Sisters also supply chickens to Asda, Sainsbury's, Marks and Spencer, Lidl, Aldi, the Co-op and Iceland.