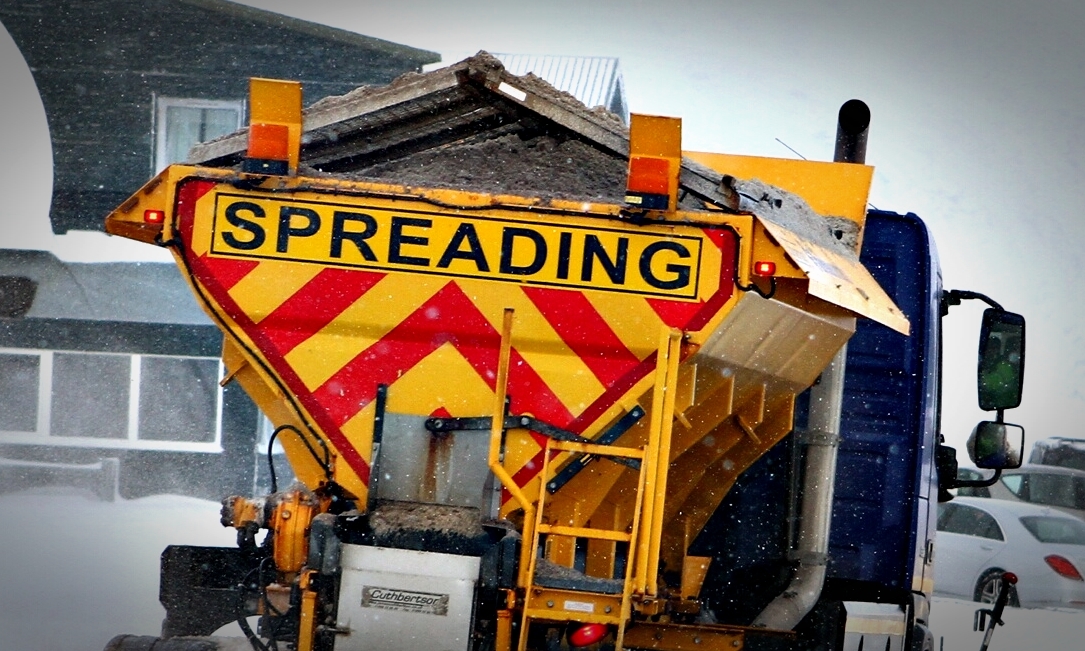 The Beast from the East has swallowed up grit and salt supplies across Perth and Kinross.
The mountains of minerals used for road and pavement treatment across the region has almost doubled this year, from 16,000 tonnes to 30,000.
A fresh delivery of 5,000 tonnes of salt has been arranged to top up supplies at the Ruthvenfield operations site.
Melting snow has exposed crumbling carriageways and crater-like pot holes, as life begins to return to normal after five days of extreme weather.
The vast majority of schools were able to reopen on Monday, although Logiealmond and Cleish primaries remained closed.
Lib Dem councillor Peter Barrett, vice-convener of the authority's strategic policy and resources committee, was briefed on the impact of the conditions during a meeting with Tayside Contracts crews.
He confirmed that more than 30,000 tonnes of road treatment supplies had been used up. Around 16,000 was needed for the same period last year.
"The workshop was completely quiet when I was there," he said. "The pits were empty, meaning every lorry available was deployed across the whole council area, including the snow blower which had been redeployed from Glenshee to Kinross to deal with severe snow drifting around Loch Leven."
He added: "People were volunteering to do extra shifts this weekend in order to try to get the roads network cleared for school teachers and pupil transport.
"I heard about the heroic efforts that were being made to reach people with urgent medical needs including dialysis and brittle bone syndrome.
"It was great to be able to thank staff for the massive effort that has gone in, not just in Perth but across the whole of the area, to keep roads open and to provide lifeline connections for vulnerable residents.
"I wanted staff to know how much their efforts have been appreciated."
Council leader Murray Lyle also visited road-clearing teams.
"The weather we have faced over the past few days has been exceptional, and so has the response of our staff," he said. "Road clearance teams have been out constantly, day and night, gritting and clearing roads, keeping our main priority routes open despite the severely drifting snow."
Mr Lyle added: "Social care staff and our partner providers have made sure clients are getting the care and support they need across Perth and Kinross.
"Many others have gone above and beyond to help out, even if their usual work has been disrupted, such as the traffic wardens who have been clearing disabled parking spaces."
Mr Lyle said he was very proud of the ongoing commitment by dedicated staff and partners.
Conservative councillor Angus Forbes, who is on the Tayside Contracts joint committee, added: "The council do whatever is necessary to keep Perth and Kinross flowing.
"The Beast from the East has been challenging, but it's something we plan for and as a local councillor I had more comments from constituents about the effort volunteers put in than I did complaints."