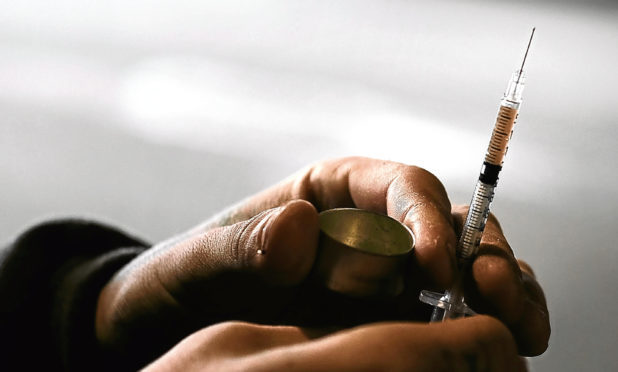 Dundee has suffered another drug death, it was revealed in court yesterday.
As he defended his client, William Murray, solicitor Billy Somerville told Perth Sheriff Court the death had "brought it home to him".
Murray, from Dundee, was in Perth for sentencing after admitting behaving in a threatening or abusive manner at Tesco in Perth on March 26 this year.
Shocking start to 2018 means Dundee's drugs death crisis is heading for worst ever level
The 45-year-old has to travel to the city to collect his methadone prescription after being banned from every pharmacy in Dundee because he had turned up under the influence.
Mr Somerville said: "He is now on an opiate blocker called Subutex.
"It is not widely used but has been introduced recently in Dundee because of the number of people dying from overdoses in the city.
"A friend of his passed away last week, aged 46, so that has brought it home to him. He was a life-long friend and his funeral is on Monday.
"He thinks the Subutex is working."
Murray was jailed for two months after pleading guilty to shouting and swearing in the store and threatening to damage property.
Sheriff William Wood backdated Murray's prison sentence to March 27 so he was freed from custody yesterday and told to seek support from social workers.
A report in February revealed there had been 12 suspected drug-related deaths in Dundee during January alone.
With Britain as a whole having by far the worst drug death statistics in Europe, it gives the city the dubious distinction of being the continent's drug death capital.
Labour MSP Jenny Marra said: "Dundee has the highest drugs death rate in Scotland.
"Scotland's rate is far above the UK average and the UK's drugs death rate far exceeds the European average.
"This is a human crisis deep in the heart of our communities."
Although Subutex, a trade name for buprenorphine, is meant to treat opioid dependence, it is an opioid substance itself and can also be abused and lead to addiction.