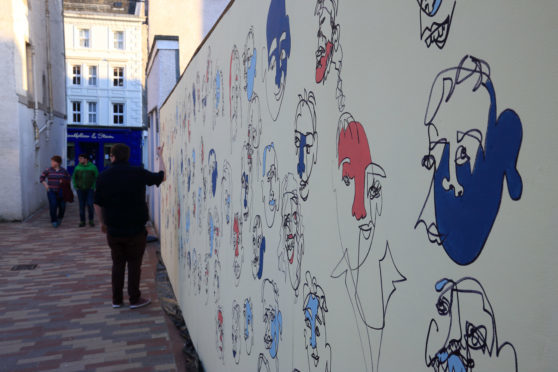 Perth's own version of Bansky created a new artwork,under a shroud of secrecy, as part of a 12-hour cultural extravaganza in the city.
The installation, a comment on bureacracy, was unveiled in Skinnergate lane on Saturday.
Created as part of the ReCap (Re: Contemporary Arts Perth) programme, it featured a mountain of red tape.
The artist wants to be known only as "Anon" and so didn't appear at the event for fear of being identified.
Instead the honour of showing it off to the waiting public went to Poppy Jaratt, ReCap's producer at Culture Perth and Kinross.
A spokesperson for Culture Perth and Kinross said: "One of the artists, who wished to remain anonymous, did a bit of a Banksy. 'Anon' produced an installation which is a direct commentary on bureaucracy.
"It involved red tape – lots of it."
The aim of the 12-hour event was to transform Perth's historic vennels — for one day only — and to encourage people to look at the area in a new way.
Several local businesses gave their support to ReCap by offering discounts and special offers.
"Eight local artists took over the vennels with installations, video art and street art to encourage the public as well as other artists to imagine Perth and its public spaces differently," the spokesperson added.
"Culture Perth and Kinross wanted to use this event to highlight Perth's public spaces but also to give the area's younger demographic a say in the future of these locations."
Ms Jarratt said she was thrilled by the way the event had gone.
"I love that ReCAP is a 'here today, gone tomorrow' thing," she said.
"The brief was that artists installed their artwork in the morning and removed it that evening."
Residents were invited to leave feedback on a chalkboard wall or tie messages to a tree.
The event also featured music, poetry, drink and food.