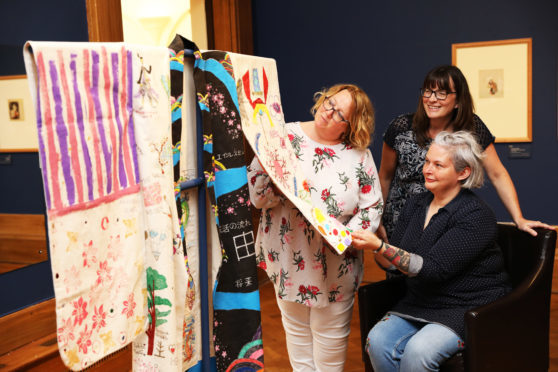 A Japanese-style robe created to represent Perth communitites has been unveiled.
The kimono, displayed at Perth Museum and Art Gallery, is made up of nine different parts, each one designed by a different group in the city.
It was inspired by the recent discovery of a rare 19th century Korean robe at the museum – one of only two in the UK.
Both robes are now on display as part of the Dress to Impress exhibition, until October 27.
Barbara Hamilton, senior officer for communities at Culture Perth and Kinross, said: "The robe project strengthened community ties by giving the museum a chance to reconnect with groups they have previously worked with, build new relationships and helped to break down access barriers.
"The robe represents a modern approach to kimono design, using fabric pens, sequins and gold leaf.
"After the exhibition is finished the groups will be given the chance to display the finished robe in their own environment and share their experience with other group members."
Pupils from Perth High School and Fairview School helped with the designs, as well as Perth College students, Murray Royal Art Group, the Care Home Activity Network, Culture Perth and Kinross volunteers, Perth Creative Community Collaborative, Perth Autism Support and prisoners of HMP YOI Cornton Vale.
Dress to Impress features ceremonial wear, Samurai swords and armour, art and accessories, some dating back to the 17th century.
Helen Smout, chief executive of Culture Perth and Kinross, said: "I would like to thank all the community groups who took part in this very exciting project, and also National Museums Scotland and the Heritage Lottery Fund for their support of this exhibition.
"Dress to Impress is proving to be very popular with visitors and I know the addition of our community robe will only add to the interest."