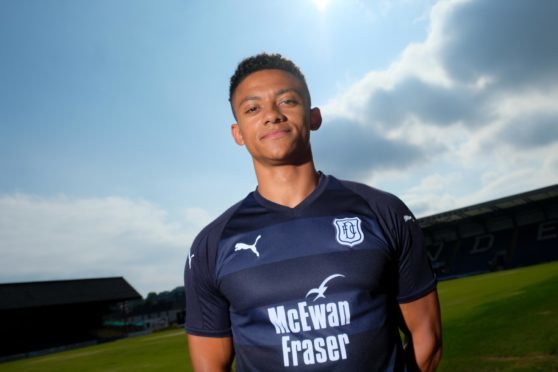 Nathan Ralph has revealed that his decision to take a step back into non-league football in England has paid off and helped him secure his move to the top tier in Scotland with Dundee.
The 25-year-old was released by current Dundee United chief scout Paul Sturrock when he was at Yeovil Town in 2015 with the player then joining Newport County.
His time at the Welsh club was beset with injury problems and he decided to drop down into the National League, spending two seasons with Woking.
His performances there put him on Dundee boss Neil McCann's radar with the Dens boss snapping him up on a two-year deal last month.
Ralph said: "The gaffer told me they had been watching me for a while.
"I had gone down to non-league and the hope was to come back up at some stage.
"I had a few injury problems a while back.
"It was a case of going lower and playing games in non-league football.
"I just wanted to prove myself and I think I played 70-odd games in a couple of seasons.
"So it was good to do that.
"I feel I am good enough to play in the league and it was just a case of proving that which I felt I was able to do.
"I am very grateful the move has come now. I got a call and I was really happy to come here.
"Being honest, I didn't know much about Scottish football but I knew it was definitely a good standard and something that was going to test me so I am looking forward to it."
Ralph admitted he already knew a couple of Dundee players including Roarie Deacon who he had faced a few times while playing for Woking against Sutton United.
He said: "I spoke to Rory before coming to Dundee.
"We had played against each other a couple of times and had some good battles in non-league.
"He just assured me that if I came here, the manager would improve me and it is a good standard and set-up.
"So it was everything that really ticked all my boxes."
Ralph has been put through his paces at pre-season training this week and he he has already fitted in well with the rest of the Dundee squad.
However, the Englishman admitted he was taken aback by his team-mates' alleged support for his country in the World Cup.
Ralph said: "Training has been good and I have enjoyed it.
"Some pre-seasons are just straight running but we have done a lot of football as well which is great.
"It is match specific but you also get your blow-out so it is ideal.
"I have been at many clubs before where you come in and you are the new player but you get to know people fairly quickly in football.
"I also know Josh Meekings from when we were young in the academy at Ipswich.
"They are a good bunch of lads.
"To be honest, they have been quite supportive.
"Maybe it's because I am new but they say they want England to do well.
"I am not getting carried away. Their name's not on the trophy yet – far from it.
"England have a good, young squad and they seem to have high morale so I think we will do fairly well."
Ralph revealed exactly what kind of left-back he is and what he expects from Scottish football.
He said: "I am energetic and like to attack.
"I like to get forward and put crosses in. Hopefully I can get a couple of goals as well.
"I am mainly a defender though. You have to make sure you are in position first and foremost.
"I expect Scottish football to be tough, energetic and there will definitely be a lot of technical players.
"I think a lot more people are coming to play from different countries.
"It will be a test for sure."