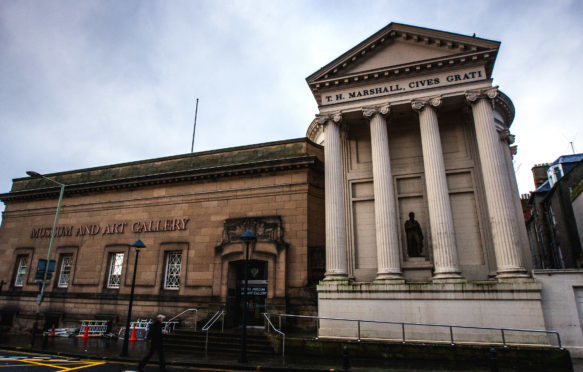 A major new exhibition will shine a spotlight on the merchants and crafters of bygone Perth.
By Hammer and Hand presents the work and history of the Fair City's medieval Guilds.
To celebrate the launch of the display at Perth Museum and Art Gallery, George Street has been decorated with an array of colourful banners.
Significant objects, artwork and archive material has been brought together by Culture Perth and Kinross to highlight Perth's important economic history, and explain who these craftspeople and merchants were, what they made and sold, and why were they organised into Incorporated Trades and the Merchant Guild.
The Guildry Incorporation of Perth today is the direct descendant of the Merchant Guild, as a charitable organisation which continues to provide support for its members, as well as assistance for deserving local good causes.
The George Street banners reflect the different trades involved in the Guilds, from glovers to hammermen (metalworkers).
Council leader Murray Lyle said: "The Guilds of Perth have a very interesting history that links closely into its status as a city, with the Merchant Guild receiving royal recognition in the famous Charter granted by King William the Lion to Perth in 1210.
"Through these banners, we can highlight that history, and encourage the public to visit the exhibition at Perth Museum and Art Gallery to discover more."
Helen Smout, chief executive of Culture Perth and Kinross, said: "It's heartwarming to see local businesses today continuing to trade as modern equivalents of merchants of the past.
"By Hammer and Hand celebrates the merchants and craftspeople who formed the backbone of the city economy, so it is apt that today's businesses are flying the flag and acknowledging that."
The free exhibition, which runs until the end of September, features amongst others the ceremonial keys to the city of Perth, presented by Lord Provost Charles Graham Sidey to Queen Victoria during her first state visit to the city in September 1842.
Visitors can also check out a decorated stone foundation plaque which dates back to 1742 and was removed from 141 High Street, the site of the old Hammermen's Hall.