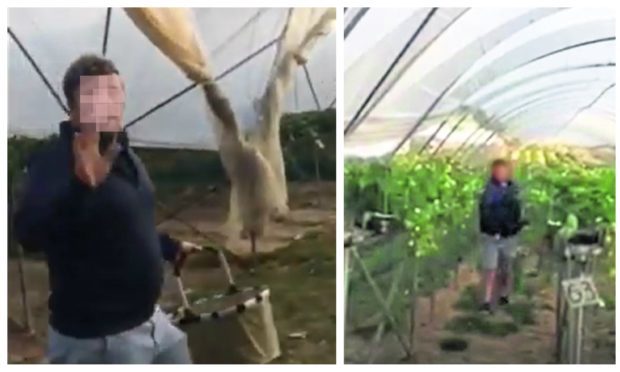 An alleged strawberry thief was caught on camera by a Perthshire farmer.
The video of the polite confrontation between the would-be raider and farm workers went viral on social media.
Glencarse-based Stewarts of Tayside shared the clip on Facebook over the weekend, in an attempt to shame the alleged "brazen" thief.
It was shared and viewed by hundreds of people before the company took it down on Monday afternoon.
The clip, filmed by mobile phone, shows a car parked at the edge of the berryfield.
The farmer is heard to shout to a man in the field: "Hello? I can help you?"
The man replies: "Just getting some strawberries, is that alright?"
When asked if he got permission, the man said: "Yeah, from the farmer."
The reply comes: "Which one, I'm the farmer."
The man, carrying a metal bucket, then apologies as he walks off the site.
The incident has been reported to Police Scotland.
Stewarts' social media post, which listed the registration number of the alleged thief's car, claimed it was not the first time the site had been targeted.
The company has declined to comment on the video.
Police Scotland's media office said it was unable to find details of the incident on its system.
In 2016, criminal gangs targeted farms in the south of England, stealing thousands of pounds worth of strawberries and cherries.
Soft fruit farmers have warned that a workers' shortage is threatening their livelihoods, with unpicked berries left to rot on the vines.
Farmers and politicians are calling for a seasonal agricultural scheme to be put in place, which will allow people from the EU and beyond to come to Scotland on a temporary permit to work.