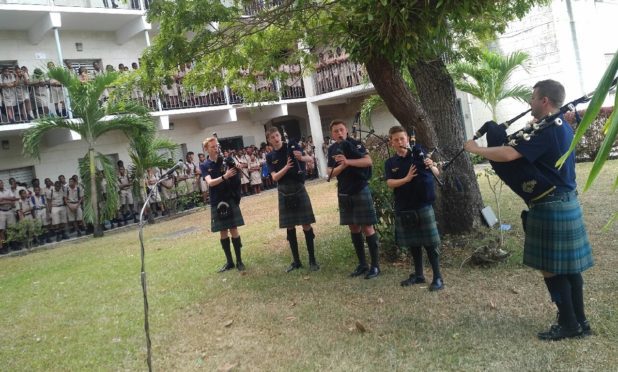 Perthshire pupils took a starring role at a colourful celebration of traditional Scottish music in a tropical paradise.
The Barbados Celtic Festival marks the Caribbean island's historic ties with Scotland.
Youngsters from Strathallan School were invited to perform at the show, along with their tutor, pipe major Craig Muirhead.
They took part in a massed bands parade in baking hot Bridgetown, along with pipers and drummers from organisations throughout the globe.
The Perthshire group also got the chance to play for local children at pop star Rihanna's old school Combermere, on the outskirts of the capital.
The festival was established in the 1990s by Carol Anderson from Edinburgh. She said: "We have developed a unique fusion of music from both sides of the Atlantic in the growing festival through our folk and traditional music.
---
>> Keep up to date with the latest news with The Courier newsletter
---
"Pipers and drummers take part in a massed bands parade every year with the local Barbados Defence Force Band, marching in a parade together and playing music from Scotland as well as music from Barbados. They first time we fused our music, we played Wild Mountain Thyme reggae style."
She said: "We took the pupils from Strathallan School in to Combermere School to make a presentation of their pipe music to the assembly.
"During that event a young Bajan came up to me and asked me if I had ever been to Glasgow. When I said 'many times', he went on to tell me his surname is Glasgow. It was very moving."
Mr Muirhead said: "It's amazing to come to a different country, with a different culture, and share our culture with them."
He said his team had plenty of water to cope with the heat, while wearing their kilts.
Scotland's ties with Barbados go back more than 300 years to the early days of the sugar industry.
Records at the Bridgetown Museum list names of men from the Highlands who settled on the islands.
The festival was filmed by STV as part of a documentary about Barbados.